Biodegradable poo bags are the best you can buy for the environment, right?
Wrong.
They still break down into tiny microplastics. These can eventually end up in our oceans, harming aquatic life. What's worse is that they can actually take years to do this too, and if they aren't properly disposed of, can be eaten by wildlife or other animals such as horses and cows.
This is why FETCH.IT's more eco-friendly compostable poo bags are the best choice if you want to help the planet, but ensure your dog's waste is safely picked up.
They are made from cornstarch and degrade completely within weeks into natural elements which aren't harmful to the environment. This is applicable to tested home/industrial conditions, which is where most people will be using them.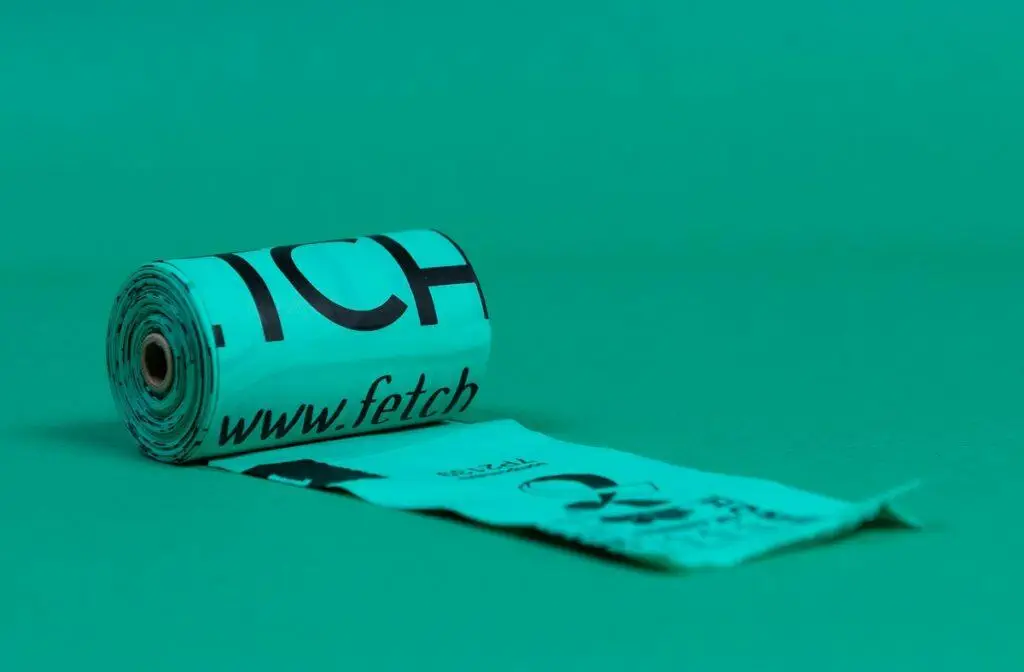 FETCH.IT was created so you don't have to decide between being a responsible dog owner or an ethical fighter against single-use plastic waste. Two years ago, co-founder Kiki was personally frustrated at the plastic waste, after getting her first dog.
Compostable bags are a better alternative as they are certified to degrade into natural biomass within months. Alex and Kiki, founders of FETCH.IT set out on a mission to create the best compostable poo bag on the market
They've achieved this by creating a bag with a special star seal which adds to the strength of this bag. A year later, they expanded their line to include bags with tie handles and a mini version for toy breeds to help reduce waste.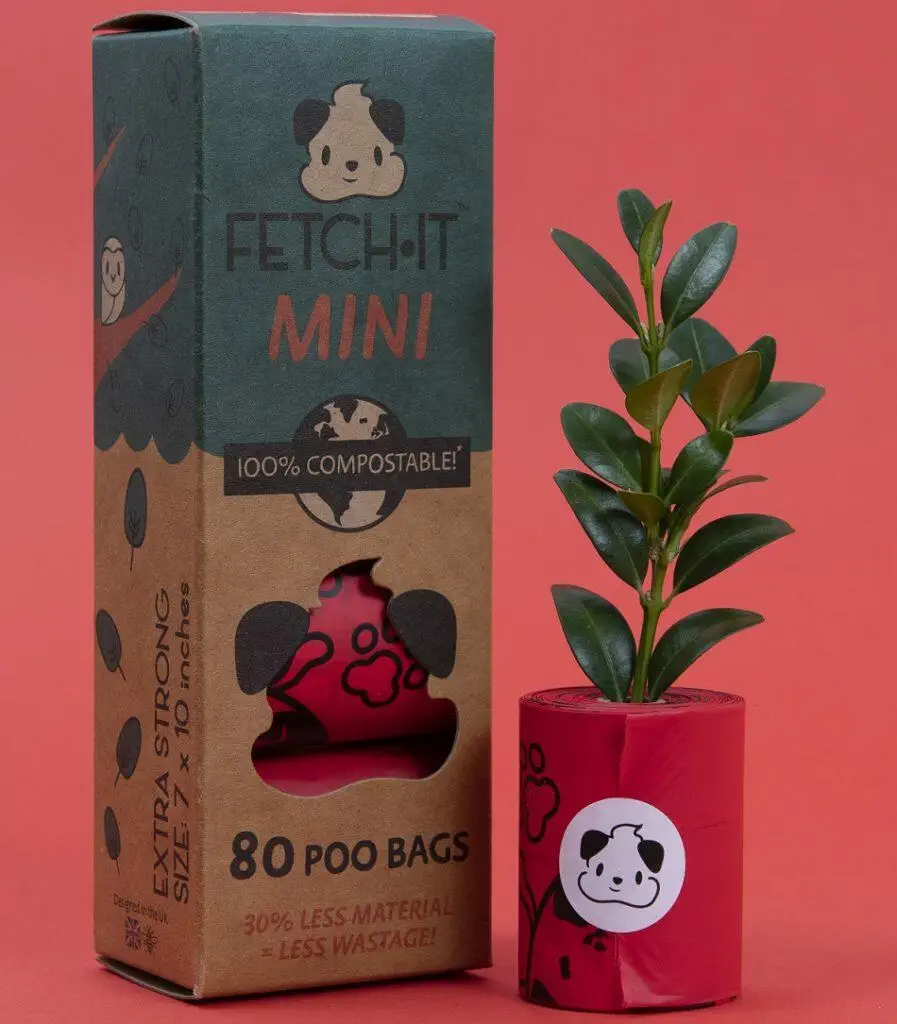 What Is Available?
As well as the regular and smaller sized bags, other ethical products have been created by FETCH.IT. This includes their cleaning mitts, which every dog owner needs after a mucky walk.
Kiki tells us:
"In an effort to help pet owners reduce waste further, we've created a compostable mitt which is made from wood pulp fibres. The mitt has been designed with a dog owner in mind, it's thicker than the average wet wipe so scrubbing muddy paws is never a problem.
We've also added a handy tab that helps to turn the mitt easier so both sides can be used. The mitt is unique as it can be rinsed and reused multiple times before disposal in a compost bin."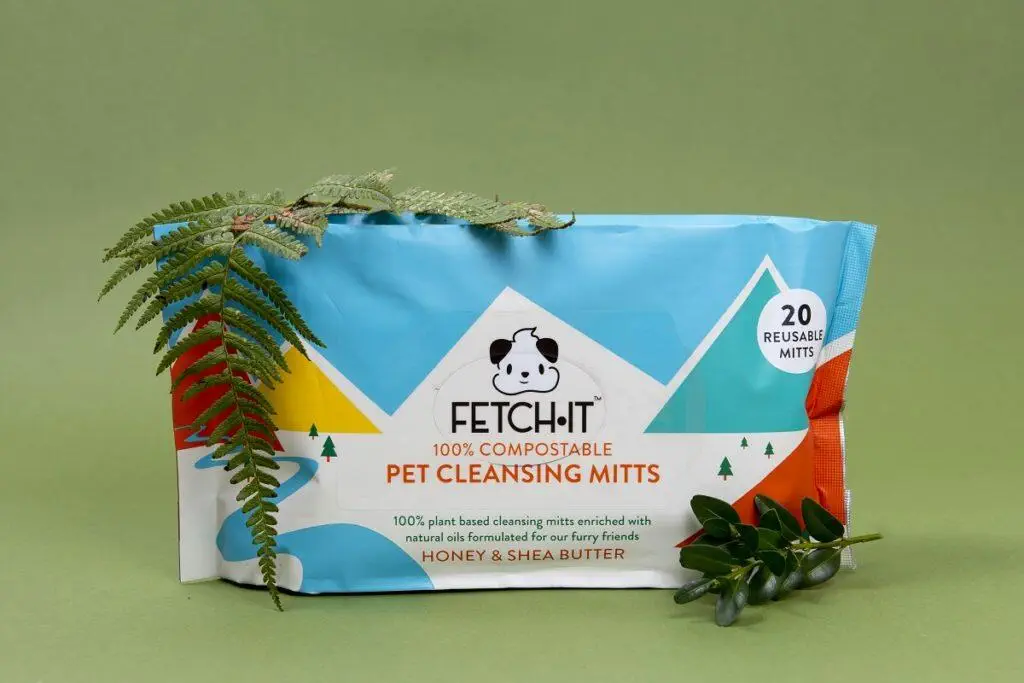 All their poo bag packaging is made from recyclable cardboard, with blue and green colours reminding us of the ocean and land (and that we are using products that are good for the environment).
They also work with other brands and companies to bring us related products. Their Dicky Bag collaboration resulted in a carrier that is robust, lightweight and can last for years. They also worked with Embarc Studios and Lily & Bear to make the best plastic-free cork poo bag holders around, and Chalke Valley Soaps assisted them in producing vegan-friendly non-waste shampoo bars.
When you buy through their website, they will also deliver it in a 100% recycled and recyclable mailing bag that use TerraCycle facilities.
Charity Mission
FETCH.IT is also passionate about giving back. For every box of poo bags sold, FETCH-IT donates 1% of the profit to one of their three chosen charities.
Moor Trees plant new trees and restore woodlands to bring communities together. Surfers Against Sewage educate communities about the damage plastic is doing to our oceans. Underdog International aim to impact one million children and dogs by 2025. They help children understand the importance of animals and use dogs as therapy pets in schools.
FETCH.IT has loads of ideas for future eco-friendly products, so watch this space…