In an age where making considered product choices can actually take some of the stamp out of your environmental footprint – it's amazing how many of us turn a blind eye when it comes to providing for our pets.
Eco-friendly and sustainable goods might be at the forefront of everyone's thinking these days, but the pet industry is still yet to catch on, with an assortment of big-name brands continuing to churn out the same old pet toys and accessories, all made with zero commitment to making the planet a better place.
That's why for this Small Business Spotlight, we wanted to give a little glow to Sue & Goose Studio, a dog accessory brand that focuses on natural, repurposed collars and leads, that never compromise on quality or comfort.
So if you're someone looking to get sustainable in all areas of life and want to take your pet along for the ride, let us introduce you to one of the best eco-friendly businesses out there…
Sue & Goose Studio's Story
Based purely on the name alone, you'd be forgiven for envisioning some kind of duo at the wheel of this business – perhaps an eco-warrior and her pet goose doing their utmost to tackle environmental issues and invent more sustainable pet products.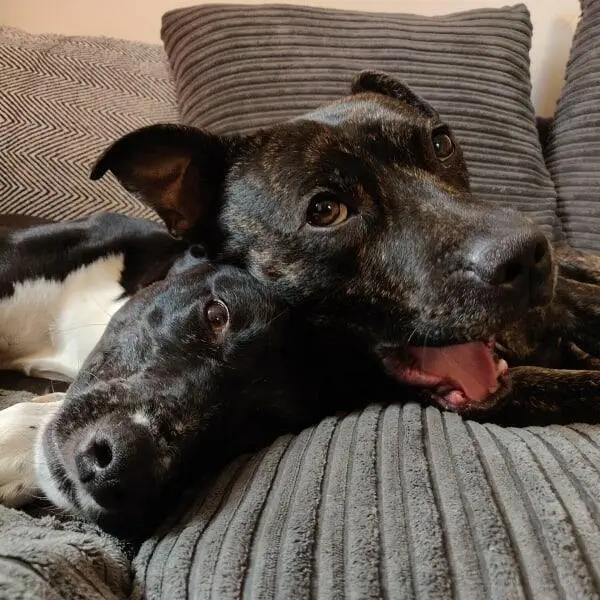 But fortunately (or unfortunately), there's a much more rational explanation behind the company moniker, as Susie and Goose are the names of founder Zoë's adorable two rescue dogs – the inspiration for her business.
A lover of all things arts and crafts, Zoë has always been keen on exercising her creative side and the seeds of Sue & Goose Studio were planted after she successfully handmade some collars and leads for her own two dogs.
But these weren't any ordinary leads and collars… these were accessories made entirely from recycled and repurposed materials, as part of Zoë's commitment to low-plastic living.
After noticing how successful these homemade accessories were in both satisfying Susie and Goose's needs as well as her own environmental consciousness, it wasn't long before Zoë decided to make her creations public.
"I thought I could maybe give selling them a go, I think we see quite a lot of plastic heavy products in the pet industry, and I wanted to offer something that didn't add to this problem." – Zoë, Sue & Goose Studio Founder
Currently run as an online store through Etsy, the business has taken off more than Zoë could have ever imagined, with hundreds of like-minded dog owners seeking out her handmade heavens!
Another quite amazing thing to note is that Zoë runs Sue & Goose Studio entirely in her spare time, as she also leads an incredibly busy life working as a nurse!
The fact she is then still able to make every item to order, all by hand, is a testament to the passion and love she has for making ours a pooch-friendly planet!
While Zoë does hope the company can expand in some way in the future, for now, this is very much a labour of love.
We doff our proverbial caps to you Zoë!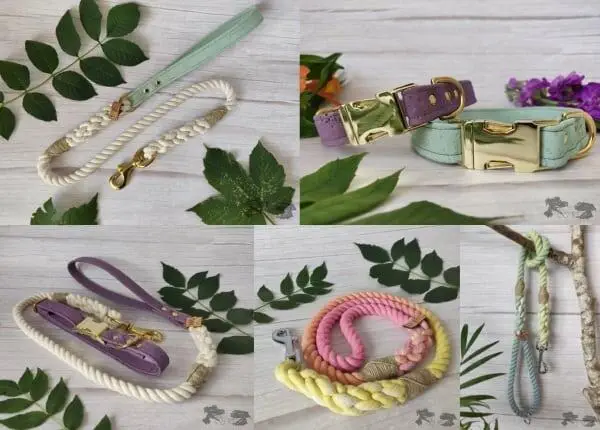 Eco-Friendly Commitment
"The most important part to me of this business is that it is eco friendly, I only want to produce items made from natural and sustainable materials that have a low impact on the planet." – Zoë
The main drawing point for Sue & Goose Studio products is that you can always trust they have been made entirely free of plastic.
Zoë is constantly seeking out any recycled materials she can repurpose, as well as any unusual natural materials which might fit the bill.
But while staying eco-friendly is crucial, it's equally important that this does not come at the cost of quality, durability and comfort for your dog.
Because ultimately, it doesn't matter how environmentally sound an accessory is if your pup doesn't like it.
That's why Zoë is focused on going to great lengths to source the best materials she can from sustainable businesses and testing all of her creations on company flag bearers Susie and Goose first!
This practice ensures that every accessory that passes through Zoë's hands is comfortable, aesthetically pleasing and can survive the rough and tumble lifestyle of the dog world.
If they don't get a woof of approval from the big dogs, they'll simply never hit the shelves.
Another aspect we love about Sue & Goose Studio is that they can also help you repurpose some of your own materials – so if you have any old clothing that you think would make a pretty patterned colour, send it the way of the studio!
Sue & Goose Products
When not making bespoke orders for customers, Zoë regularly creates two accessories she believes to be the cream of the crop when it comes to sustainable, plastic-free leads and collars.
The first of these is Sue & Goose's rope dog leads, entirely twined from natural cotton so that they are soft to the touch, but have a high resistance to abrasion and wear. As a bonus, they also get even stronger when wet – so you'll never have to fear bad weather walking ever again!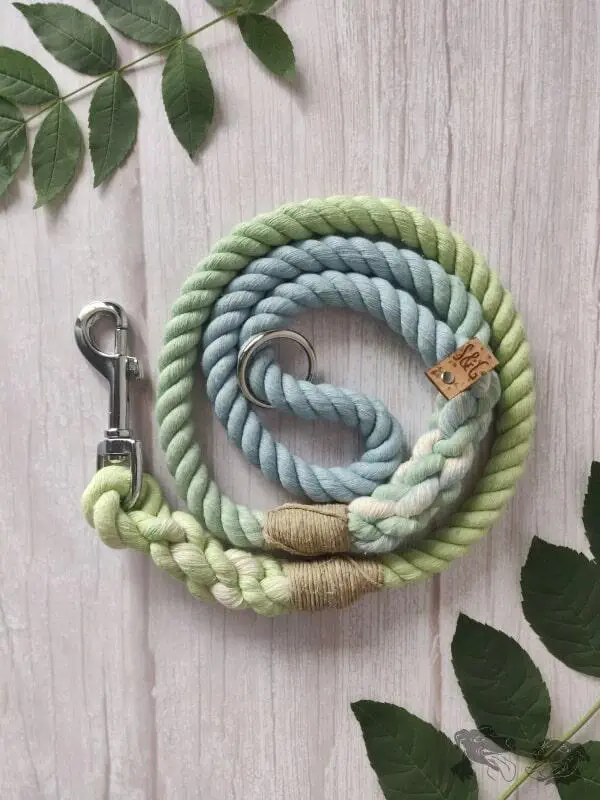 To give them a bit more personal style for your pooch, they are then hand-dyed with non-toxic dye for some eye-catching colour and as Zoë creates the rope herself, you're free to choose any colours you like – including intertwining colour combinations!
Our favourite product from the Sue & Goose Studio though is their cork leather collars, which offer an amazing alternative to real leather.
Animal friendly yet still authentically classy in appearance, it won't shock you to learn that cork leather is derived from the bark of… you guess it, a cork oak tree.
What might surprise you though is just how incredible a material this is, as not only does it look like leather, but it's also as durable and long-lasting, with a soft touch that's kind to your pooch's skin.
Forget being as good as leather though, because cork leather is by all accounts far better, boasting hypoallergenic, anti-fungal, waterproof, stain-resistant and dust, dirt and grease repellent properties. Finally then, a collar that can be both stylish, sophisticated and yet effortlessly practical for owners.
All of Sue & Goose's accessories also come in a variety of sizes in order to suit all breeds of pup, and the option of brass or silver metal for your buckles and clips means you can always nail down the look you have in mind.
But while you might expect the average zoe to rest on their laurels after creating such phenomenal accessories, Zoë isn't stopping there, and the hunt for a wider range of equally successful materials goes on.
The latest of her discoveries is the natural plant-based material hemp, which she has quickly transformed into a worthy contender for cork leather's undisputed dog collar crown.
A versatile and durable natural fibre, hemp is a material that helps the environment in more ways than one, because as well as eliminating the need for plastic, it also actively removes C02 from the air and is grown pesticide-free with limited water resources! It even helps regenerate the soil it grows in!
Thankfully, it's also a great fit for mutts too, as the light and flexible material is hypoallergenic, extremely strong, plus antibacterial and antifungal – perfect for pups with sensitive skin.
So what are you waiting for?
The road to your pup's eco-friendly and sustainable lifestyle starts here!