The Wood Life Project is a brand born out of concerns the founders have for the future of the planet and how the habits we have now could have longer-lasting effects than we think.
Plastic pollution has been on all of our minds, and pet products often are made out of this material – especially when it comes to things like bowls, storage tubs and scoops. The Wood Life Project was created in January 2019 as an eco-friendly homeware brand, in order to be a part of the end of the plastic revolution, and its range of products includes pet food bowls in case your concerns aren't just limited to human consumption.
Founder Hazel Russell tells us:
"We are a husband and wife team, and also parents to 2 young boys. The decision to create our company was born out of concerns we had for the future of our planet and the legacy which was being left for our boys.

We incorporated the company in January 2019 and started trading in September 2019 after our first trade show. We now sell to over 50 retailers and sell via Not on The High Street and Joules too.

Our first products, the bear, fox and rabbit plates with separate ear pockets, were designed and created out of necessity as our eldest child, Joseph was such a fussy eater when he was younger, and we needed to be creative and make mealtimes more fun and appealing.  Our jigsaw plates are firm favourites with our boys, and they love mismatching the ears to make funny animal hybrids!

Our pet bowls were the next to the market, super-cute and practical wooden dog and cat bowls.  They have been very popular due to pet owners turning to more eco-friendly, planet-friendly products."
Wooden Pet Bowls
The pet bowls made by The Wood Life Project are crafted from legally-felled British trees, making them ideal for eco-friendly pet owners. The wood is sustainably sourced too, so their production is not damaging the planet.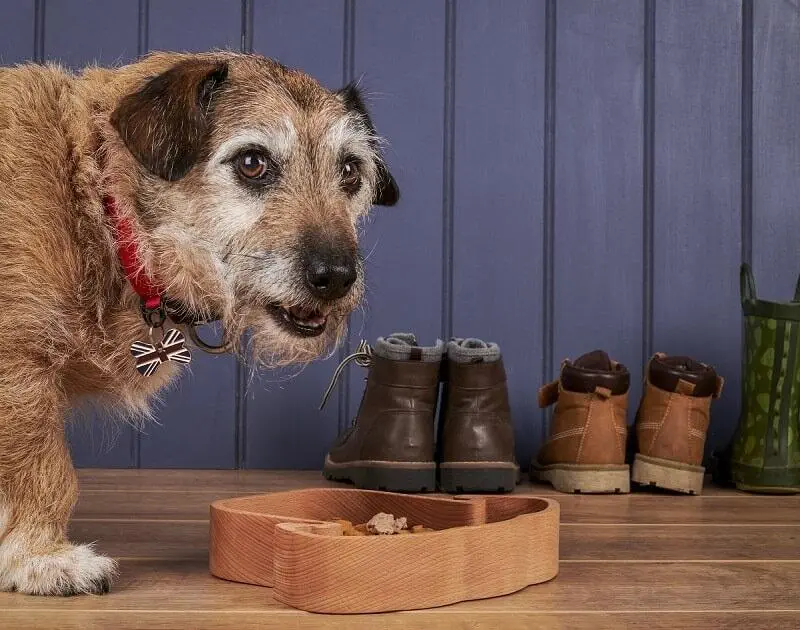 And as much as you may be saying "Well it seems so simple to make these changes then!", surprisingly wooden variations of anything pet-related aren't commonplace. The Wood Life Project's wooden bowls made our list of the best dog bowls available, but eco-friendly picks are hard to come by in general.
They manufacture the bowls right here in the UK, and each is designed for both wet and dry food which makes them ideal for all pet owners and their animals.
The bowls can also be personalised by engraving your pet's name on the side, which is a really nice touch and can even be practical if you have a few pets to feed.
In terms of care, just handwash and oil when needed. That is it. Saving the planet has never been so simple.
Why You Should Move Away From Plastic Pet Bowls
Even though wood seems like an odd choice for a pet bowl, the natural antibacterial properties make them a practical and sustainable alternative to plastic bowls.
There is also a lot of discussion surrounding just how good plastic bowls are for eating out of – if they scratch, they can build bacteria as they're hard to clean. Scratching is a lot more common than you'd imagine too – if your pet chews the bowl, or if it is scraped from washing, it will begin to wear away.
Plastic bowls and the build-up of bacteria have also been linked to pets developing allergies to plastics, or even pet acne and allergy rashes around their chins and face. This can obviously cause problems if using other plastic items such as toys, and can also be worrying.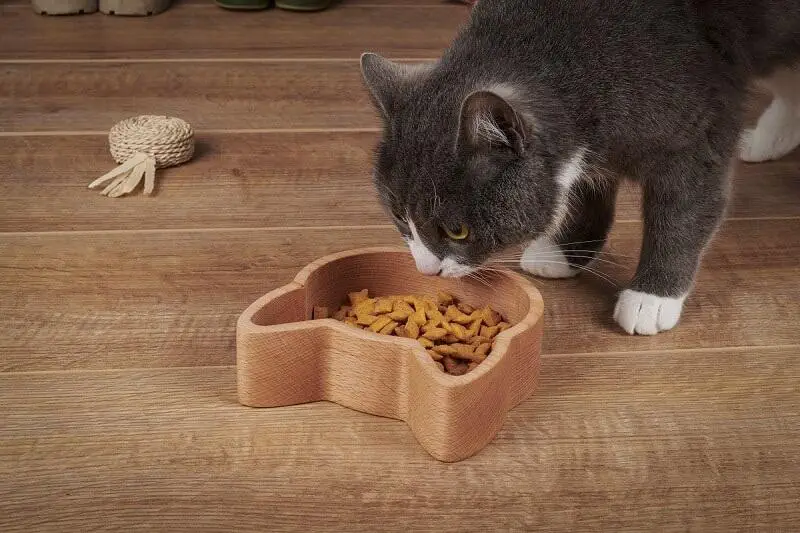 Other Items
Obviously, everything The Wood Life Project makes is wooden, and this includes their for-humans bowls.
For children, they make bowls which are designed as animals – bears, rabbits, and foxes to name but a few – which is great for any little animal lovers in your life.
If this all appeals but you also want to make changes in your general kitchenware life, mixing bowls, lunch boxes, cutting boards and carving boards are all available.