Where once small pets were banished to a hutch in the garden, an owner's need for a more domesticated and snuggly relationship with their animals has seen indoor rabbits and guinea pigs becoming an increasingly popular choice.
However, while pet owners are converting their spare rooms into guinea pig mansions in their droves, the pet industry hasn't exactly caught up yet, meaning the demand for high-quality custom fleece liners and more cosy interior accessories is having to be met by smaller, independent businesses.
So if you're considering keeping a small pet indoors, or are already finding appropriate indoor bedding and equipment hard to come by, allow us to introduce you to The Hoghouse – a practical haven of handmade, built-for-purpose fleece liners, beds and other interior accessories.
Although originally and officially a store for African pygmy hedgehog owners, the success of the business and their custom-made commitment mean they have now branched out to providing the optimum accessories for any indoor small pet – meaning they should always be first on your list when considering snug and safe cage accessories!
About The Hoghouse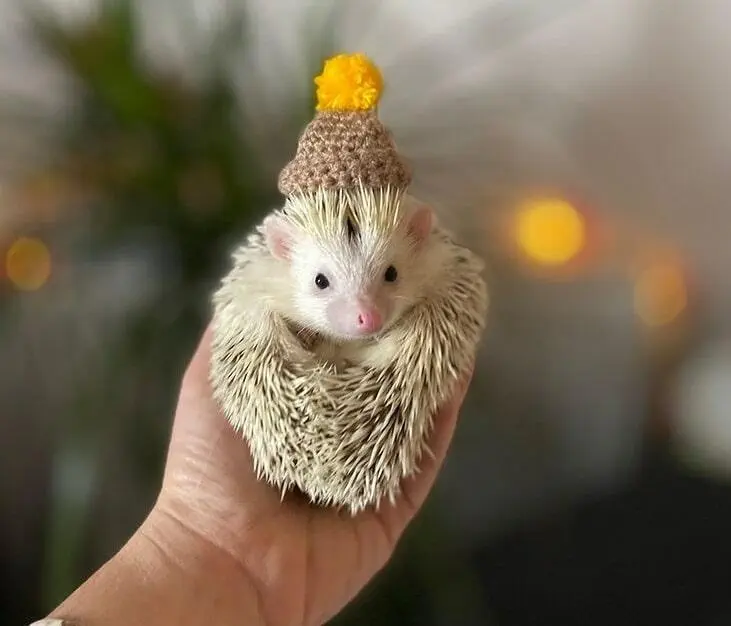 The Hoghouse is a very small company masterminded entirely by hedgehog enthusiast Claire Edwards – who runs Hoghouse's fantastic site and handmakes every product all entirely on her own!
The Hoghouse provides a plethora of goods for helping hedgehog owners turn their house into a suitable home, offering everything from important cosy cage features such as fleece liners, beds and hidey holes to more fun accessories such as tunnels and toys!
A truly renaissance business owner, Claire does just about everything but model the products, which she thankfully leaves to her two utterly adorable pet pygmy hedgehogs Clover and Rafi – the Kate Moss and Naomi Campbell of the hedgehog world.
As a hedgehog owner herself, Claire was originally inspired to create her own products when she found that there was a lack of specified cage accessories and bedding for hedgehogs on the market, meaning providing optimum care for her hogs was originally a little tricky.
"With African pygmy hedgehogs, it's quite a niche pet market and some of the generic items you get in pet stores or online is not quite suitable for them." – Claire, The Hoghouse
Simply wanting the best for her pets, Claire began creating her own bedding and fabric-based toys to solve the issue, immediately getting a 'huff' of approval from her pointy pals.
This encouraged her to make custom orders for other owners within the close-knit hedgehog community, where things quickly began to take off!
Before she knew it her weekends were entirely devoted to scouring fabric shops for funky patterns and the cosiest materials – all in aid of helping her fellow hedgehog lovers provide a more fitting habitat for their hog.
"Big name pet brands don't really offer soft furnished items like mine and I make a lot of custom orders and made to measure products for cages…with big-name brands, you get what you get and there is no option to customise." – Claire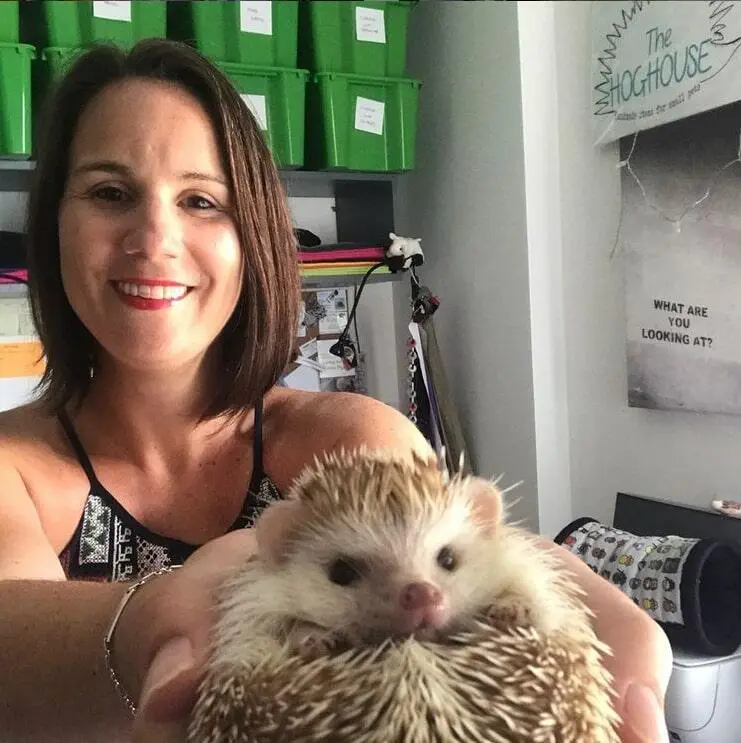 In 2016, Claire decided to officially offer her talents and knowledge to the world by creating The Hoghouse website, offering her products and personal care guidance to a wider audience.
Originally a creative hobby business, the increasing need for hedgehog owners to find handmade and built-for-purpose accessories has seen The Hoghouse go from strength to strength, with Claire even having to expand her product range to providing for guinea pigs too, who are equally grateful for her snuggly fleece liners!
Since 2018, The Hoghouse has become a full-time job for Claire, but her passion and commitment to creating custom accessories remains the same as it did when providing for her own hogs – who are still her number one testers for new products!
And if they don't meet Clover and Rafi's strict approval, they simply don't make the grade!
"I'm always trying to create something new to enrich my hogs' lives…  I enjoy making these snugly items and take great care to ensure they are just perfect and safe" – Claire
A Company You Can Trust
As well as owning her own hedgehogs, Claire is a keen advocate of hedgehog welfare through her work with the National Exotic Hedgehog Rescue, the UK's No.1 African pygmy hedgehog rescue charity.
A carer with the charity for six years, Claire offers up her home to any homeless hogs in need of immediate care and shelter until they are ready for adoption and can be found a new, permanent home.
As a carer, Claire sees first hand how the current lack of care guidance and hedgehog specific products available to new owners can quickly turn to neglect or even worse, abandonment.
That's why The Hoghouse aims to provide an owner with all the accessories they need to provide a healthy, happy home for hedgehogs, as well as plenty of suitable foods to ensure they have a rich and varied diet!
By providing pet owners with the means to meet an animal's most crucial welfare needs, perhaps The Hoghouse can help reduce those neglected hedgehog numbers!
Improving Care Standards For Domesticated Hedgehogs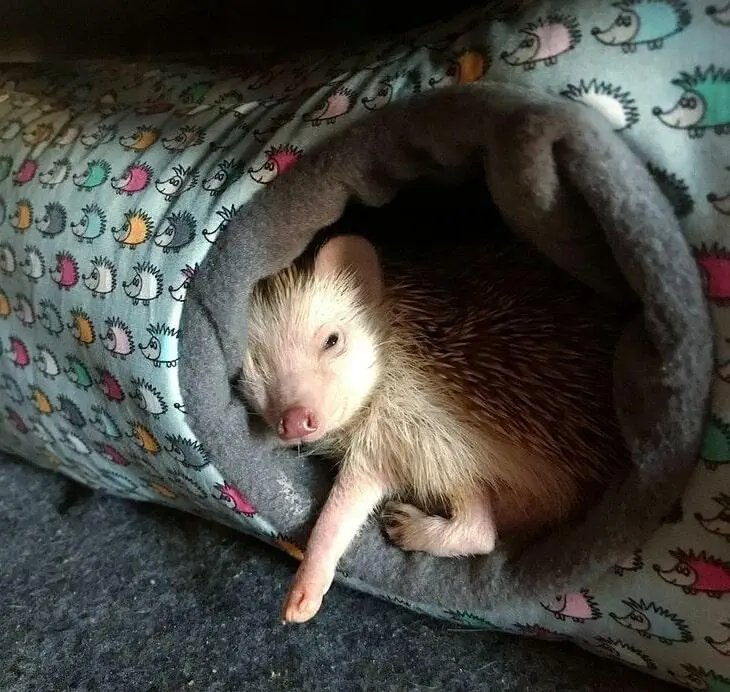 As well as being your best bet for custom made, comfortable accessories, The Hoghouse is also looking to grow itself as a haven of helpful information for hedgehog owners.
This is primarily done through the website's Hog Blog, an area which features regular articles from Claire, giving tips and proper guidance on everything from food choices to housing recommendations.
"A lot of research needs to be done before getting an African pygmy hedgehog, as they do require a good set up and specific care. They require a warm set up, as they do not hibernate, and need to be kept warm all year round. They also have specific diets and can have health issues – so having access to an exotic vet is very important." – Claire
It's these vital details and considerations that are often neglected when people look to buy pets and Claire is keen for people to look beyond the appealing Instagram photos that inspire people to choose exotic pets and really inform themselves about what owning one might entail.
Crucially, The Hog Blog can also help those who already own a hedgehog become better caregivers, providing them with the kind of experience and advice that's hard to come by in pet shops or on welfare sites, as they remain such a rare pet.
Top Hoghouse Products
Hoghouse's number one best selling products are the made to measure custom fleece cage liners, as they provide hedgehog and small pet owners with a lining that's comfy, easy to clean and warm – plus its custom dimensions mean it will fit your pet's cage perfectly!
The site offers triple layers for added absorbency, double layers or a padded liner which provides extra softness and warmth for winter months.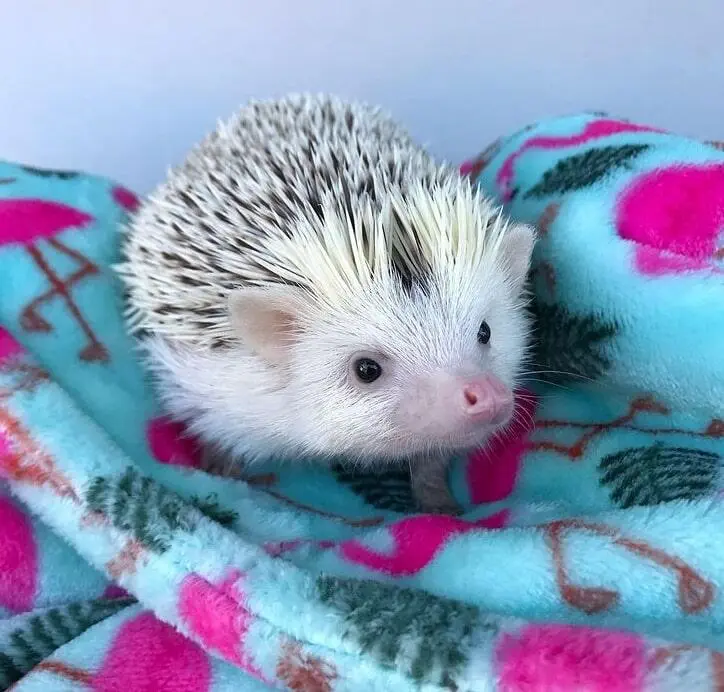 This makes Hoghouse a fantastic choice for both hedgehogs owners and those keeping rabbits or guinea pigs in an indoor environment!
For those who are specifically hedgehog owners though, another of the more vital products on sale is the double fleece handling blankets, which allow your hands protection from sharp quills, while also offering a snug and soft feel for hogs when being picked up.
Anyone getting a new hedgehog should also consider a full set starter pack – which features all of The Hoghouse's fantastic cage accessories in one package, including a house, tunnel, snuggle sack and two toys!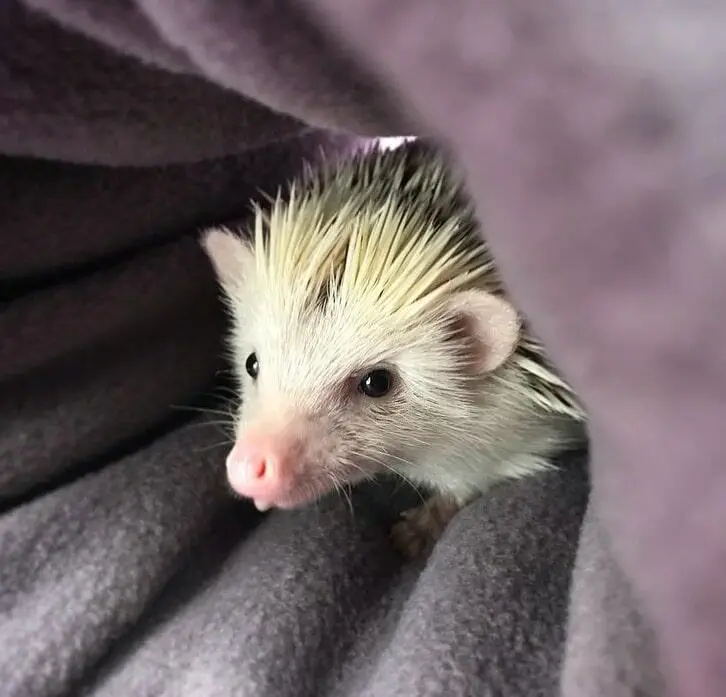 Monthly Photo Boxes
If you like regularly treating your hog, you may also get a kick out of Claire's monthly photo boxes too.
Working like a one-off subscription, these boxes allow you to get your hands on a little goody bag of themed gifts depending on the month, with previous editions including 'Hogoween' and 'Hedgeflix'.
Inside you'll find snuggly items, hog treats, toys, props for taking photos with and even some treats for the owners. Just be sure to register your interest in a box before it goes out on sale – as there's a limited amount, meaning first come, first served!
Hedgehogs As Pets
As a nation, there's no denying that the UK absolutely adores hedgehogs, with their charming way and unusual spiky appearance making them a figurehead for the British wildlife scene.
In recent years, it's even become incredibly fashionable to make your garden a hedgehog-friendly habitat and so it's only a matter of time before people start desiring a closer relationship with our prickly pals; swapping out familiar domesticated pets for a weird and wonderful, waddling hog.
And according to a lot of animal welfare charities, we're already halfway there.
While the kind of wild European hedgehog you might come across in the garden is not an appropriate pet or even legal to keep in the UK, the more small and suitable African pygmy hedgehog has become an increasingly popular (and legal!) pet in the last decade, as they are mostly bred to be domesticated.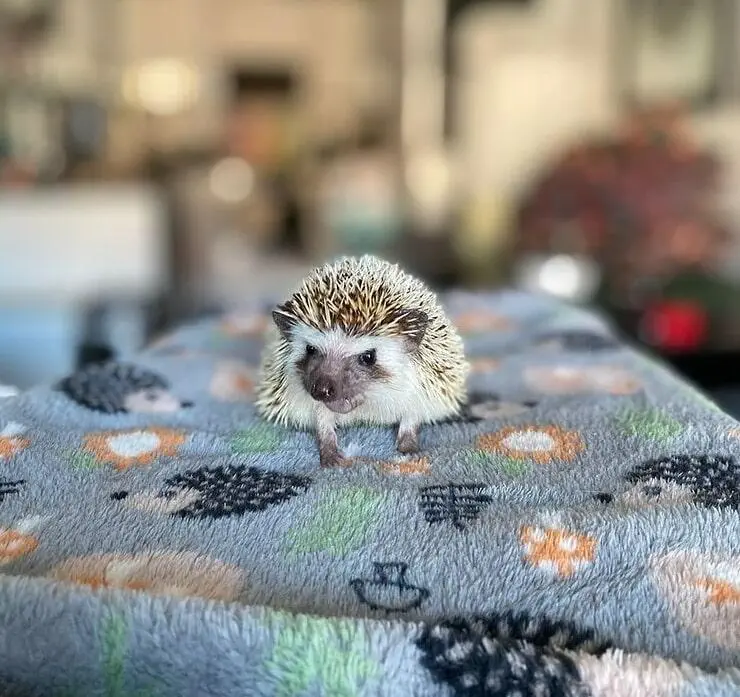 However, taking care of one is no walk in the park and sadly, too many people take on the challenge who are not equipped with the correct know-how and home environment to do so.
The difficulty that comes with meeting their legal needs under the Animal Welfare act has meant many have struggled to care for pygmy hogs in the past, with mistreatment and abandonment of the creatures being a huge problem for the RSPCA, who still doesn't recommend them as a domesticated animal.
This has resulted in an awkward situation for people who already own and sufficiently care for African pygmy hogs, as well as animal lovers dead set on owning a bristled buddy, as it's meant the current provisions and care guidance available for these creatures is very sparse.
That's why we think it's important to shine a light on The Hoghouse, as Claire and her company are a glowing testament to hedgehog care done right, showing that with the correct knowledge and inclination, owning an African pygmy hedgehog can be an enriching experience for both owner and animal.
As Claire is a trusted carer for the National Exotic Hedgehog Rescue, it also means The Hoghouse's Hog Blog is a great place for owners to get accurate advice and care information that can help make them become a better hedgehog parent.
We recommend checking out Claire's vivarium set up, which shows just how intricate, spacious and supportive a hog's home has to be, as well as her blog on how to make home-cooked, healthy hog food!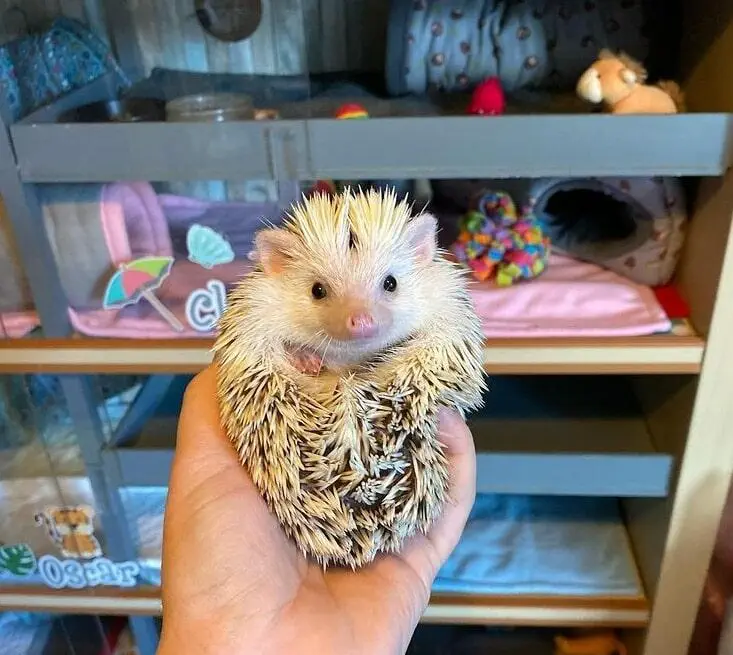 Though we believe it's important for animal welfare charities to warn people off the idea of domesticating hedgehogs and don't encourage it, if they continue to increase in popularity regardless, it's just as crucial that sites like The Hoghouse continue to educate and provide for owners, helping to prevent animal negligence through learning rather than denial.
For a detailed guide to what keeping pygmy hedgehogs as a pet entails, please refer to the National Exotic Hedgehog Rescue's Care Guide, which strictly adheres to The Animal Welfare Act.