The Big Dog Bed Company was born over ten years ago, out of personal frustration from the lack of suitable large dog beds for the German Shepherd now immortalised in the company logo.
Not only were the available beds not big enough for Ludvic, but the filling was always inadequate and quickly became flattened. Even on the rare occasion that a good one was found, it would get wet easily from walks and swims, which resulted in a bed that never dried and developed that lovely wet dog smell we all know and love.
So the Big Dog Bed Company had to find a solution. They wanted a bed which was properly filled, waterproof, odour-free and which could actually last a lifetime. There has been an overall improvement in the beds on offer over the ten years since, but many of the beds available still aren't up to standard – and the brand still offers a unique combination of features.
Company owner Dru even tells us that there are a lot of beds offered as orthopaedic which don't have the features to justify this. For instance, foam chips don't offer enough support and quality for dogs who need it – even if said chips are made from memory foam.
Ludvic also had a hip replacement at the age of eight and suffered from a spinal problem in his later years. So not only did his owners have experience trying to find a suitable dog bed for a larger breed, but also a veterinary bed for health issues.
Ludvic is no longer with us, but their Chair Dog is now Monty, the Beauceron. He is full of fun, energy and has a significant sense of humour, and enjoys agility and squirrel chasing – good job he has a comfortable bed to rest up on, then!
They have listened to what people want, too. Having offered a range of fillings, people "voted with their wallet" and decided that foam was best. Big dogs are also their primary target market, but joint issues aren't solely an issue for larger breeds, which is why their Active Recovery® range caters to smaller pets.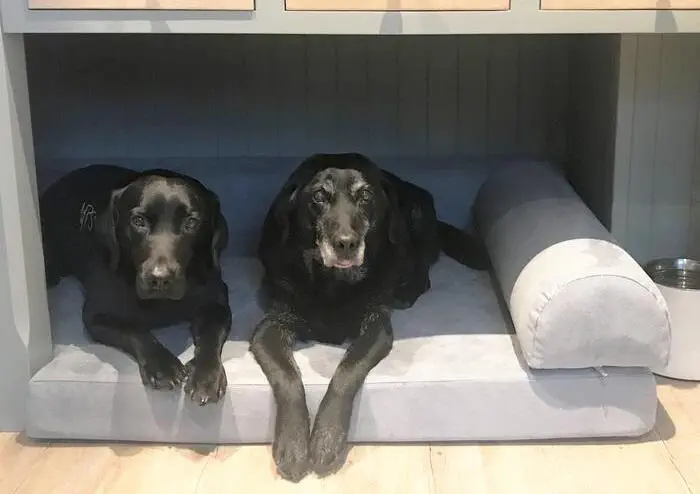 The company has also made waves in the veterinary sector. In response to the fact that vets can increasingly carry out more complicated procedures which result in longer kennel stays, Big Dog Bed Company wanted to ensure dogs have something which they can stay comfortable with.
All covers are waterproof, antibacterial and easy care, but as upholstery fabrics, they look great and are hard wearing
They have worked with veterinary physiotherapists, too, in order to develop equipment for injury rehabilitation. BDBCo.VET is the banner under which the veterinary products are offered.
They also sell beds which are suitable for the car, as well as beds for incontinence or even oak frames which accommodate the medium and large Signature Beds and Active Recovery® beds, if you want a bed which is a bit more 'traditional' looking.
Testing & The Environment
Before anything is offered for sale, it is tested for two years. New materials are tested for a year, to ensure they are strong enough for their intention.
Their physiotherapy equipment is even trialled by a number of veterinary physios to make sure it is safe, robust, and useful in the environment for which it is created.
All of the beds and veterinary equipment are designed and made in the UK by the company, with a small amount of specialist fabric bought directly from the manufacturer in Belgium and The Netherlands.
Environmental impact can be tricky to be fully in control of, especially as it can sometimes affect the quality (as much as we hate to say it). But, the best way in which they do minimalise their impact is the longevity of the beds; their oldest one is eight years old.
"One of these early test beds has just had a new cover request from the person that still has it eight years later, and she has two ridgebacks and lives on a farm so it's had some pretty tough wear".
Foam may be made from fossil hydrocarbons, but it can be recycled, and the cover will only need washing very occasionally. Beds are also made to order, so nothing is wasted.
So, if you want a bed which is sustainable, supports your dog perfectly and is well-designed for their particular needs, you can't go wrong with Big Dog Bed Company.