British independent businesses are all the rage right now, and it's about time! The team here at Petz are all about championing the local businesses that make up our communities, especially the ones dedicated to pets.
And one of these marvellous independent businesses is Pet Hamper, run by Emily and Mark in the Preston countryside. The couple started the venture towards the end of 2019 after Mark created his own amateur pet hamper for a personal Christmas gift to someone else. From this, they realised that there was a need in the market for high-end pet products that were made with quality and had the personal touch, and since they couldn't find it, they'd be it instead.
Pet Hamper was born and since then it has provided luxury, and bespoke hampers packed with unique doggy treats – each one quality made and each selection designed with the individual dog in mind. Every product they sell is tested on their own dog, Ted the Labradoodle. Whether it's a fragrance that doesn't last on his fur or a toy that doesn't last two minutes with his big teeth and love of chewing, It won't make it their site.
We included Pet Hamper on our reviews of the best Christmas Dog Hampers
While Mark was working on the business full time, Pet Hamper quickly grew so popular that his partner Emily soon had to be fully hands-on as well. With over 10,000 products sent out in the Christmas period alone, it seems that the gifts are truly resonating with fellow pet lovers. While the company is young, they're already no strangers to the spotlight with Vogue Magazine and Tatler features.
But it only takes one look at their Instagram to see just how special the hampers are with their luxury champagne-coloured branding and environmentally friendly linen sacks that are filled with all the things your pup or cat would love. From toys, blankets and treats to bowls, grooming and coats… there's an array of choice to put into your pets hamper, and if you're simply looking for one specific thing, there's the option to buy products individually as well.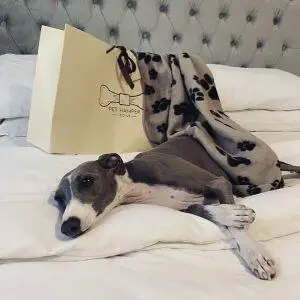 The hampers are beautifully tied with a ribbon bow and feature the big-name products in the pet world, including Henry Wag and House of Paws. And dare we say it, they're also incredibly Instagram-worthy with the Pretty in Pink products or the English Country products that features grey tartan toys, traditional grey rope and leather leads, and a sauve bandana embroidered with antlers. With the couple developing their own range later in the year, new products will be on their way that are made by hand, sustainably in the UK.
So, for a few more reasons as to why you should check out this brand, let's dive into a few of our favourite hampers…
Create Your Own
Mark and Emily have achieved something truly special in allowing customers to lovingly create their own hampers through three easy steps. You can choose what packaging the hamper comes in, followed by its entire content with the option of every product available on the site. Place as little or as much in and then finish off with a choice of delivery options.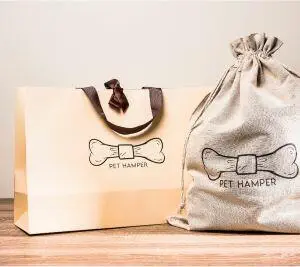 Birthday Hamper
Whether it's a gift for a friend or your own pup, birthday gifts for dogs are becoming increasingly popular and these little birthday hampers are adorable. There's the option of Birthday Boy or Birthday Girl, and it comes with a low-calorie iced woofin (cupcake) from The Barking Bakery, a neroli and peony body mist, a rope ball tugger toy and luxury salmon bites for a tasty treat – all beautifully colour co-ordinated of course!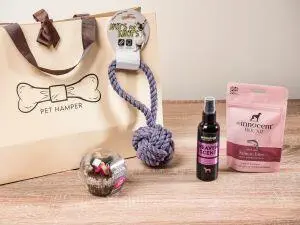 Little Tinker or Wellbeing Cat Hamper
And since we're also a nation of cat lovers, Pet Hampers has gone above and beyond with the choices for cats. The Wellbeing Hamper features massage and grooming products, mentally and physically stimulating activities, a mason saucer and healthy well-being treats too. The Little Tinker Hamper is for the playful at heart with stimulating toys, activities for an interactive game, and little heart treats for your feline friend to enjoy after all the fun.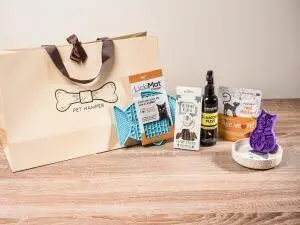 Whether your friend has recently got a new puppy, it's your pet's birthday, or you just want to show some love to your four-legged friend, there's plenty more hampers and products to explore on their website.
You'll have something truly special and the satisfaction of knowing you're also supporting independent businesses.