There are two big issues with shampoos and other similar products, whether it be for humans or dogs. Firstly, they contain a lot of things that don't really need to be in there. Secondly, the plastic bottles they come in are not very good for the planet.
We can now find easy swaps for ourselves, but for our pets, it can be a bit trickier. This is why Pupsuds natural shampoo bars are a winner.
Founder Nic had originally struggled to find a shampoo that didn't dry out the coat of non-moult pups Bertie and Stan the Tibetan Terriers.
Living in Kent, Nic and Bertie are natural beach lovers. Bertie perhaps more so than Nic, as seeing he rolls around in seaweed, sand and all sorts of other stinky unearthed treasures. Lockdown gave Nic some time to research, create and test as she's conscious to leave nothing but pawprints on the environment.
Daughter Emily has a background in animal care so was able to help and Bertie is the chief tester. Pup Suds was born.
The Soaps
All soaps are natural, handmade and have an added touch of luxury. They're designed for non-moult dogs like Bertie, but there's no reason why they can't work on all dirty pups.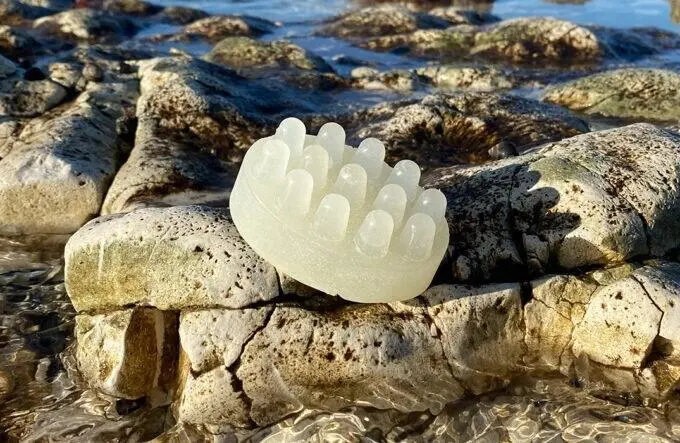 There are five different moisturising varieties, all with different aims depending on the issue you are facing with your dog.
The super moisturising one is perfect for any dogs whose skin and coat get very dry, perhaps naturally or because you need to wash them so much. There is an anti-stink anti-fox poo one too because all dog owners have experienced that lovely aroma.
A calming shampoo bar contains shea butter and lavender which can calm an anxious dog who doesn't like bathtime. A healing bar contains shea butter and a touch of tea tree oil to help gently heal and repel those pesky fleas, making for perfect natural flea shampoo.
Finally, the healthy skin one does what it says on the label, working to ensure their skin stays healthy—good for any dogs who don't have any issues but need a good regular wash.
All of the soaps are made in small batches by hand and are vegan and cruelty-free. There are no nasties either, so no parabens, sulphates, surfactants, PEG, mono propylene glycol, phenoxyethanol, or plastics.
The labelling for the products shows how natural and eco everything is. Just use them as you would ordinary shampoo on yourself by working into a lather. The coat may look sticky at first but it is just the oils which are ready to be absorbed.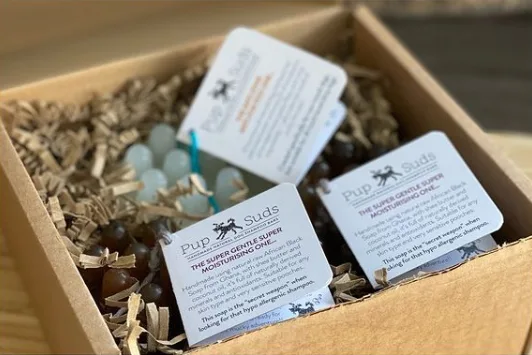 The Tugs
The Pupsuds team, with Emily at the helm, while Nic manages the soaps, have also started making tugs too. They are natural and handmade from soft recycled cotton cord, or recycled t-shirt cord, so they are good for the planet too. There is also an added bonus that it cleans their teeth and gums, and they come in a variety of sizes to cover a variety of breeds.
None contain any plastics or nasty bits, and they are biodegradable, compostable and recyclable.