The UK officially and finally went into a long-rumoured lockdown last week to help prevent the spread of coronavirus, with the Prime Minister Boris Johnson introducing new and stricter measures with regards to the public leaving their homes.
However, the new precautions still seem to be lost on some people, and there is undeniably some remaining confusion over what we can and can't do in terms of going outside.
Thankfully, walking our dogs is something which is still allowed, meaning our pups can get some crucial exercise, and we get to shake off some of that cabin fever as an added bonus!
Walking Your Dog In Lockdown
One form of daily exercise is allowed under the UK's new lockdown rules, meaning you could use this opportunity to take your dog out on a walk without it being against regulations.
However, the trouble here is that the rule stresses this should be just once per day, which is a bit of an issue when dogs require at least 2 walks per day of around 15 minutes in length.
Ultimately this means you'll have to share out dog walking duties with other members of your family to keep your pup fit and healthy.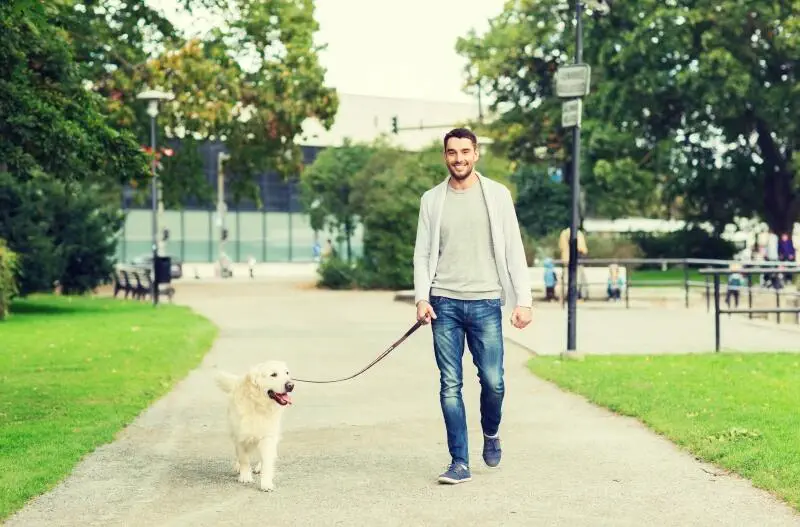 If you are your dog's sole care provider, then you'll instead need to try and fit in a longer 30 minute walk into your schedule.
It's also important to take note that even though this means you are allowed to go outside with your canine, you still need to take more precautions than you usually would on a dog walk.
The guidelines state that it is still paramount you remain a good social distance away from other dog walkers or members of the public, and the recommended distance remains a minimum of two metres away while outside.
Can I Get Other People To Walk My Dog?
If you're unable to walk your dog for whatever reason, things become a little more difficult.
According to advice from the RSPCA, the only people who can have someone from outside their home walk their dog for them is:
NHS Workers or 'Key' Workers
A 'shielded' person e.g. someone with an autoimmune disease or other virus risk factor
The vulnerable and people over 70
Suspected sufferers of Covid-19
Ideally, if you don't fit into one of these brackets and can't walk your own dog, you shouldn't be seeking out a dog walker or having a friend come over to walk them. This does not adhere to social distancing rules, and so increases the risk of spreading the virus.
Instead, make use of a garden by letting your dog out in it as much as possible and playing games like fetch to give it some exercise, or if you don't have a garden, taking it for short walks around your street.
How Long Will Lockdown Last?
The lockdown is set to last for at least three weeks, but may potentially last longer depending on how the situation develops.
After these initial three weeks, the government will review the current guidelines and how effective they have been, potentially relaxing some of them should there have been a visible improvement.
For a more in-depth view on the government's lockdown advice and all the rules, please refer to the information below.
Rules of The UK's Lockdown
Speaking to the nation on Monday 23 March, Boris Johnson stated that people should only leave their homes if "absolutely necessary".
More specifically, this means only going outside to:
Take part in one form of daily exercise (non-social e.g. walking or running)
Travel to work where necessary
Go shopping for essential items
Fulfil any medical or care needs
Police have been given the powers to enforce these rules, and so anyone found to be breaking them can be fined. Police are also likely to disperse anything which they deem to be a large gathering.
As there is no direct mention of dog walking in the rules, it's understandable that owners quickly became confused, as many don't consider it a form of exercise despite it's obvious health benefits.
However under these rules, a dog walk would indeed come under your one form of daily exercise.
If you're worried this means you'll be sacrificing a daily run, try and take turns with members of your family when it comes to taking the dog out.
Alternatively, why not combine the activities? That way you don't have to sacrifice anything, and as long as your dog is fit and healthy, they'll be more than happy to run alongside you!