Joe Biden and his social media-famous German Shepherds, Major and Champ, are now in the White House.
Major is, in fact, the first shelter dog to enter the office, giving us the true rags to riches story that we all love while shining a light on the needs of shelter dogs.
Perhaps something which doesn't come as a surprise – Donald Trump was only one of two Presidents ever not to own a pet. Animals have been documented since George Washington's famous pooch, Vulcan. And while Vulcan may never have seen the White House (since it was still being built), there have been many other 'First Pets' that have proceeded him and have graced the Oval Office since.
From the more traditional choices of dogs and cats to the wild stories of racoons and crocodiles… let's have a look at some of the animals that have called this iconic house their home.
United States Presidential Pets
1. Barack Obama
The Obama family were famous for their two Portuguese Water pups, Bo and Sunny. Whether the former President was seen playing football with Bo (lovingly named after Michelle's father) or the dogs were photographed meeting Pope Francis, they stole the heart of the nation.
Unfortunately, Bo passed in on May 8 2021.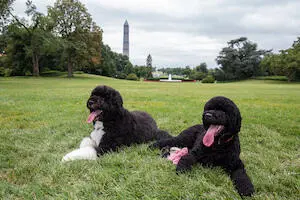 2. George W. Bush
Like his father, George W Bush seemed to love animals as well owning Spot the English Springer Spaniel, India the cat, Ofelia the Longhorn cow and two Scottish Terriers – Barney and Miss Beazley.
While Miss Beazley was gifted to Bush by his wife, Barney is perhaps the more famous of the two with more media attention and his own official web page on the White House website. However, Barney was not without criticism with Vladimir Putin stating that his Labrador was bigger, tougher, stronger, faster, and meaner than Barney. Barney was also known to get into a few spats with White House officials.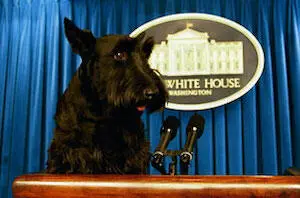 3. Bill Clinton
The ex-President wasn't the only one making the headlines, with his pets Buddy the dog and Socks the cat being widely popular in their own right. They were hardly strangers to the fanfare with each one receiving fan mail.
However, they were also famous for not getting on and were papped fighting endlessly on the White House Lawn. In fact, the fighting got so bad that in the end, Socks went to live elsewhere. Bill Clinton once said of their relationship that "I did better with the Arabs — the Palestinians and the Israelis — than I have done with Socks and Buddy".

4. George H. W. Bush
A well-known animal lover, George H.W Bush and his wife had a long-standing relationship with canines. Their two most famous pets were Sully and Millie. Millie Bush, a Springer Spaniel, was once called "the most famous dog in White House history," and could often be seen resting on the White House lawn with Bush or accompanying him as he worked in the Oval Office.
While Sully the Labrador was a service dog and remained by Bush's side in the final months of his life. He was famously pictured lying down next to the late President's coffin in complete loyalty to his owner.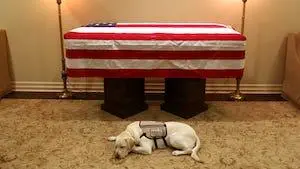 5. Ronald Reagan
From Taca the Siberian Husky to El Alamein the horse, Ronald Reagan had quite a few pets… 12 to be exact. But the most famous of these, with his own Wikipedia page, is Rex the Cavalier King Charles Spaniel.
He supposedly used to bark at the ghost of Abraham Lincoln in the Lincoln Room and hit the headlines when he underwent a tonsillectomy. He was also famous for receiving a lavish dog house that was shaped and designed to replicate the entire White House with framed pictures of Ronald and Nancy Reagan inside.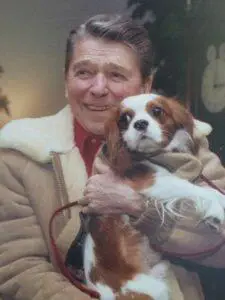 6. John F. Kennedy
Perhaps boasting the biggest list of pets, John F. Kennedy didn't just have a large family but had his own mini-farm.
With 19 pets in total, as well as ducks and butterflies, the JFK family had their hands full. They had Parakeets, and a Canary named Robin as well as Billie and Debbie the Syrian Hamsters. Not to mention Clipper the German Shepherd, and Pushinka, the puppy of Soviet space dog Strelka, given as a gift from the Soviet Union.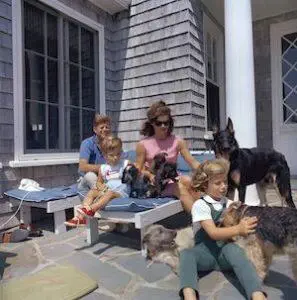 7. Franklin D. Roosevelt
Fala, a Scottish Terrier, was the dog of President Franklin D. Roosevelt and one of the most famous presidential pets. She was renowned for going everywhere with Roosevelt and was even buried next to him.
A statue of Fala beside Roosevelt is featured in Washington, D.C.'s Franklin Delano Roosevelt Memorial – the only presidential pet to be honoured so highly.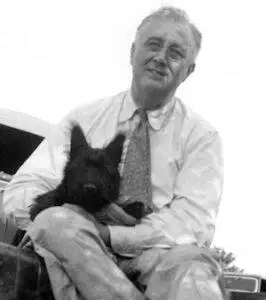 8. Calvin Coolidge
As well as Smoky the Bobcat, Billy the Pygmy Hippopotamus and two lion cubs named Tax Reduction and Budget Bureau, Calvin Coolidge also owned the famous Rebecca, a racoon that was meant to be served as the 1926 Thanksgiving dinner but was kept as a pet instead.
They built a treehouse for Rebecca, embroidered her a 'White House Racoon' collar, and when the Coolidges took a vacation in the Black Hills, they brought Rebecca along in a basket along with two of their dogs. Pretty clear she was a favourite!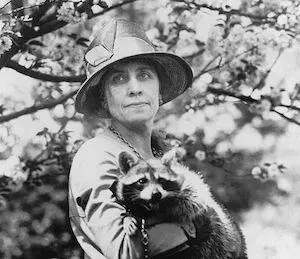 9. Theodore Roosevelt
Perhaps one of the most interesting names for a pet is Emily Spinach – the garter snake that was named by Roosevelt's daughter and acquired that name because 'it was as green as spinach and as thin as Aunt Emily'.
Roosevelt also gave a 'state funeral' to his pet Peter Rabbit and rescued a 2-week old badger during a railroad tour and later named him Josiah.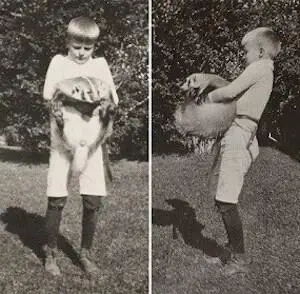 10. Benjamin Harrison
While Benjamin Harrison's pet list is pretty small, it's also pretty varied with Whiskers the Goat, Dash the Collie, Mr Reciprocity and Mr Protection, the Opossums, and two alligators.
Apparently, Russell Harrison returned from a trip to Florida with two alligators and kept them in the White House conservatory which is connected with the main floor of the mansion.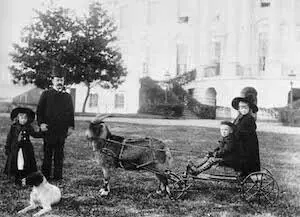 11. Abraham Lincoln
As well as his revolutionary legacy, President Lincoln was also famous for the admiration he had for his cat Dixie. Lincoln was the first President to bring a cat into the White House and thought so much of Dixie that he once said she was 'smarter than his whole cabinet.'
Throughout his presidency, Lincoln was always known to be a cat person, even rescuing three motherless kittens while visiting General Grant during the Civil War.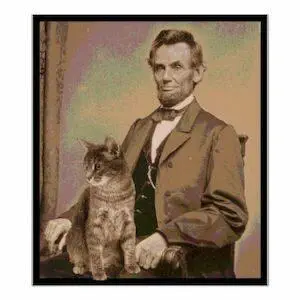 12. James Buchanan
Not the first President to own a bird but the first one to own an Eagle, James Buchanan was given two Bald Eagles by a friend who lived in San Francisco and they stayed with him at the White House for a short period before permanently moving to Wheatland, the Buchanan estate.
With the bald eagle being the symbol for the United States of America, we'd say that as far presidential pets go, having two pet eagles is pretty on-brand.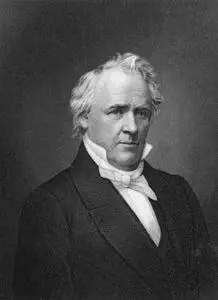 13. Martin Van Buren
Not really a man of many pets but interestingly, Martin Van Buren owned two tiger cubs that were given to him by Said bin Sultan – the last ruler of the United Omani Empire.
Buren was apparently delighted with the cubs and argued vehemently with Congress to be allowed to keep them at the White House; however, Congress eventually forced him to donate the tigers to the zoo.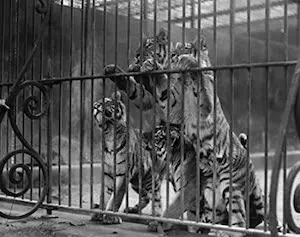 14. John Quincy Adams
Famed for supposedly having an alligator in the East Room of the White House, the pet alligator was actually a surprise gift to the President. Adams apparently found a home for the alligator in the White House East Room bathroom for two months and would taunt guests with it before returning the alligator.
However, as of yet, there's no evidence this story is true.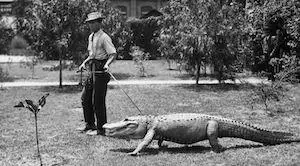 15. Andrew Jackson
Birds have remained a popular choice for presidential pets since the third president, Thomas Jefferson, but none perhaps received as much attention as Polly the Grey Parrot. Polly learned to swear and later attended Jackson's funeral but had to be removed due to loud and persistent profanity.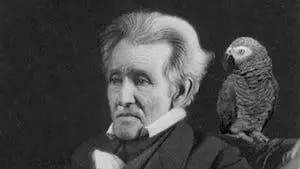 ---
Other notable pets include Pete the Squirrel owned by Warren G. Harding, Thomas Jefferson's two grizzly bears, Andrew Johnson's mice, Wilson's sheep and Liconln's famous mongrel, Fido. If the walls of the White House could talk, we imagine they'd have plenty of entertaining pet stories to share.
But no matter what shape or size the pets came in, it seems that there will always be an affinity with animals and those that sit in the Oval Office. After all, former President Woodrow Wilson did say that "if a dog does not come to you after having looked you in the face, you should go home and examine your conscience".
Wise words Wilson!