Technology has taken over all of our lives a little bit.
Okay…a LOT.
But while our lives have changed for the better by being able to ask Alexa what the weather is like, or see who has rung the doorbell seconds after it was pressed, tech for our pets is booming too.
They may need a little help setting it up and using it, but while they may not be any the wiser to how life-changing their new gadget is, we can tell you now that it will make your life so much easier.
Pet products are a big business after all, but the pet tech industry fills that bridge between pet parenting and the digital age quite nicely. Because as much as you love them, looking after them can be quite a task.
Below is just some ways in which the technology world has broken into the pet ownership world, and it looks like it won't be slowing down any time soon. Is your dog or cat ready for the digital boom?!
How you can utilise technology to care for your pet
Stay in touch while you're away from home
Are they left by themselves when you are at work, or when you've just nipped to the shops?
Well, they no longer have to be completely alone. People have used cameras such as baby monitors to keep an eye their pets for some years now, but it's no good just watching them tear up your sofa and not being able to do anything.
Now, you can watch them, talk to them, listen to what they're doing and even toss treats to them remotely.
Furbo is an interactive smart dog (or cat) camera that allows you to do all of the above, which will allow you to talk to them but can also give you peace of mind that they're okay. This makes it one of the best pet cameras specifically dedicated to your furry companion.
It alerts your phone to when they bark and when they're highly active and is used at rescue centres such as Battersea to help dogs combat loneliness.
There are plenty of other cameras which will allow you to keep an eye on them too, in real-time, wherever you are.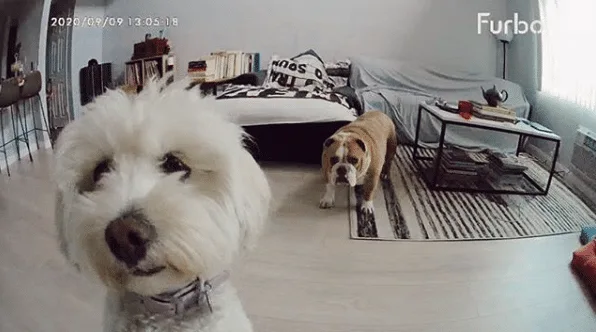 Track where they go
They're probably not visiting the local pub with their mates as you sit at your desk earning enough money to feed them, but have you ever wondered whether your other half really does take Bruno on a stroll around the block on their lunch break?
Maybe your cat can be away for hours at a time and you're concerned that they've found a second backup home, or are straying too close to the main road.
You might even want to know how much exercise they get every day, or if they're getting enough sleep. Human activity trackers are all the rage, but one for your pet will also allow you to look after your furry best friend.
They're lightweight, just fit onto their collar, and can provide insights into how they feel, whether they've been snoozing as you've been at work or how much they have eaten that day, as well as activity levels.
Dog GPS trackers can even tell you their location in real-time, which will prove invaluable if they ever run away. A cat GPS tracker can be peace of mind if they haven't returned home for a while.
Come and go as they please
If you have a cat flap, there are a few scenarios you may be familiar with:
You can't lock the flap, so Pedro from number 15 has been found to like sleeping on your bed throughout the day, unbeknownst to his owners (and to your cat's displeasure)
Your cat decided to attend an impromptu party and woke you up meowing at the locked cat flap at 2 am
Your cat decided they want to attend a party which only starts at 2 am and thought they'd tell you they need let out of the locked cat flap by pawing at your sleeping face
Your cat is a little pain in the side and comes wandering home whenever it damn well pleases, leaving you sitting up until goodness-knows-what-hour watching the front door
Well, a microchip catflap could solve all your issues. It will only allow a cat with a matching microchip through, so Pedro won't be able to try his luck again. Yours can also come home when they want to, but you can lock it one way so they can't get out again.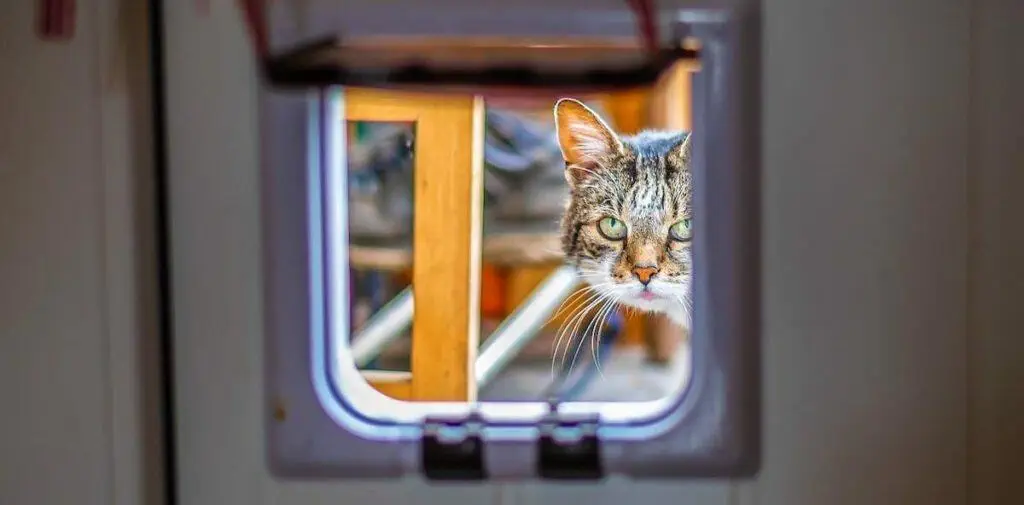 …And eat when they please
Microchips aren't just for cat flaps or reuniting your lost pet with your family.
They can also give your pet access to their food dish as and when needed. Rather than food sitting out in the open air for hours at a time, and you throwing it away all the time, a microchip food bowl will keep food sealed and fresh until they're ready to eat.
It reads their microchip, then opens. Also handy if you have a multi-pet home, and Dora the Labrador who needs a special diet food finishes hers then that of the other dogs.
Feed them when you are not at home
Bus broken down? Manager asked you to stay a bit longer? Mates begging you to come to the pub?
WHAT ABOUT MITTENS?
Worry no longer, because an automatic feeding bowl can dispense the food at 5 pm exactly (or whenever needed), without you even being there. The biscuits can come tumbling out of the container, or the lid can pop open, and give your pet access to the food.
It will always be portion controlled which is fabulous to prevent a rather rotund furry friend, and you can get options for both wet and dry food. You can even get ones which will play a recorded message to your pet (of course you can).
It is most common for cats, but larger models are available for dogs too.
Play without tiring yourself out
Socks wants you to dangle the little-furry-bird-on-a-bit-of-string toy in front of him again until he gets tired, which usually takes around 3 hours and means you can't get fully invested in tonight's very exciting episode of Corrie.
What if you could press a button? Or just leave the toy to do what it needs to do?! Interactive cat and dog toys are the answer to humans coming home from work and being able to sit on the sofa rather than having to entertain their pet for hours.
Because we all know that if they aren't tired enough, they will let you know at 3 am.
You can get balls which roll around the floor, lasers which dart about for your cat's amusement, and even automatic dog ball launchers which will get your dog running without you having to lift a finger.