When it comes to finding the right insurance for our canine friends, you need to balance affordability with finding something that's there for you when you need it.
Because sadly, there is no NHS for pets. Many owners will simply pick the cheapest policy available without reading the small print. Then, when it comes to claiming, they find it won't payout. All that money has gone down the drain.
Variables that affect how much you have to pay and what cover you get for that include your dog's age at the time of being insured, their breed, and whether they suffer from any known issues already. Some breeds are more expensive than others, as the likelihood of having to claim is higher.
Below, we will answer some common questions about dog insurance, as well as offer some tips on what to look out for when you're ready to buy.
Do I need dog insurance?
Choosing whether to get dog insurance is entirely your choice, but in our opinion, it's a smart idea.
Veterinary care is incredibly expensive, and so is medicine. Insurance will cover vet fees as well as certain medical expenses.
According to Tesco Bank, treating a small dog such as a Chihuahua for vomiting and diarrhoea can be over £600 alone. This is only a short-term illness and can be quite common and unexpected.
Ongoing treatment for a cruciate rupture in a large dog can cost on average £2,485. Then, there could be long-term health issues that develop as a result and also need close monitoring.
So unless you do have large savings set aside, it is just good sense to get dog insurance. It may feel like a waste of money if your dog is healthy at the moment, but you can never predict the future.
How do I choose the right dog insurance?
Once you have given over your dog's age, breed and health history, the decision is then which level of cover to buy. When choosing insurance, you will be given the choice of three different types of policies in general:
Accident Only
Accident-only pet insurance is the cheapest and most basic form. It doesn't cover illness, only injuries. The policies will pay out a fixed sum of money for each accidental injury. This will help pay for your pet's treatment but after twelve months the payments will usually stop.
So, if you have a breed that is predisposed to suffering certain illnesses, it may not be good enough.
Non-Lifetime Cover
There are two types of cover here – Time-Limited or Per-Condition.
Time-limited pet insurance covers accidents as well as new conditions. But the accidents and illnesses are only covered for a certain time period (commonly 12 months).
This is the cheapest way to get an accident and illness cover for a lower price. However, if your dog needs continuous treatment after this time period ends, it won't be covered. This condition will also now be classed as pre-existing, which could affect the cost of your premiums.
Per-Condition pet insurance will usually give you a price limit per condition, rather than for a set time.
So, there may be a limit of £5,000 when it comes to eye conditions. If Jack the Terrier suffers from an eye condition, the maximum you can claim over the course of the policy is £5,000, and once that limit is reached, you can claim no more for both the same condition or future conditions.
Lifetime Cover
These are the most popular and the most comprehensive forms of pet insurance. They will pay out indefinitely for illness over the course of your dog's life, unlike non-lifetime policies.
But like the non-lifetime cover, lifetime cover comes as either an Annual Policy or Per Condition Policy. An annual policy will pay out up to a certain limit every year for any illness, say £5,000. Once a new year starts, this monetary cap is reset.
A Per Condition policy will pay an annual limit for each condition. Again, a new year means the limit resets.
Which you decide on depends on your pet. If their breed is susceptible to a certain illness, such as hip issues, then a Per-Condition policy could allow you to also claim for another issue if needed – although it will cost you much more in premiums.
How much is dog insurance?
Dog insurance can vary depending on:
Age
Breed
Gender
Predisposed conditions
What's included in the policy and what level of cover you choose
The cheapest policies can start at around £5 per month, and the more expensive policies for large or designer breeds and full coverage can be nearer £100 per month.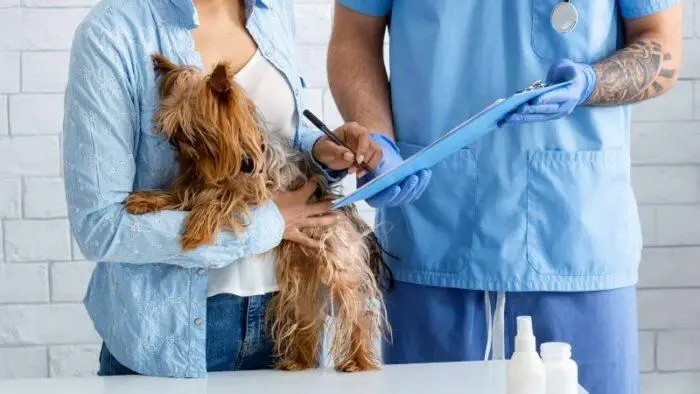 What should I look for in a dog insurance policy?
As well as the type and duration of cover you get, there are some essentials and some extra add-ons that may be worth paying that little bit more for depending on your needs.
Pay Out and Excess Fee
The average pet insurance claim in 2020 was £817, according to the Association of British Insurers.
On average, the most expensive treatment a vet will offer is cruciate ligament damage for a large dog over 50kg. This will reach around £2,894.
It will still cost a miniature dog up to 5kg almost £2,000 for the same treatment, surprisingly. So, we'd recommend looking for a policy that gives you cover for £3,000 of vet fees at the very least.
Excess can often be decided by the policyholder, but larger excess can mean lower monthly policy premiums. At the same time, paying £2 more per month might be easier for you than paying a larger excess if the time comes. Expect anywhere between £100 and £500.
Support and Stress-Free Claims
If the insurer is notorious for making claims handling difficult, it will cause you much more stress. So looking at the kind of customer support that an insurer offers is so important.
Easy processes like a 24-hour claims service, a digital claim service or an advice line will make those situations more straightforward; some providers even let you track the claim process in real-time, which is impressive. Look at customer reviews. If there are many saying claims were turned down, or that claims took ages to be paid, it could be worth swerving the company.
Third-Party Cover
Third-party insurance is not essential but if your dog is quite energetic or sometimes unpredictable around dogs, it may be a worthwhile consideration. This covers any damage your dog may cause to someone else's property or to their dog. While you probably can't imagine your dog ever doing that, it's still good to have yourself protected from any kind of legal action being taken against you.
Death By Accident or Sickness
Never something that you want to think about, but some policies will cover the cost of euthanasia and cremation, which can be fairly expensive. This is especially important to have as part of your insurance because it's inevitable, and so it makes sense to ensure that the difficult time will be as manageable as possible.
Emergency Boarding Cover
This isn't always something that policies offer as standard, but it's definitely worth considering as an add-on, especially if you don't have a family to rely on. If you have an emergency, such as an A&E trip for a few days, this could save you a hefty dog boarding bill and ensure your dog is being taken care of. Some policies don't have limitations on cost or type of boarding either.
Cover for Accidents Abroad
Most people don't take their pets on holiday, especially now the rules on travelling in the EU have changed, but if you do love spending time abroad as a family it could be worth adding this to your policy. It will give you access to vets in your country of choice.
Missing Pet Cover
We hope this never happens, but this will help cover all the expenses required in looking for your dog. It can include posters and advertisements, searches by professionals, and any other resources needed to find your dog. This can either be loss from them slipping their lead on a walk or from theft.
There has been a staggering rise in dognapping and in order to be fully prepared, you may want to make sure that money won't be a roadblock in finding your dog.
Additional Considerations
With some policies, you can also get perks and discounts from retail shops, as well as behavioural treatment, legal advice, bereavement counselling and a 24/7 video vet. A few of these won't be add-ons you can pick, but rather perks of certain companies.
Therefore, it could be worth going with a name you know and trust to get these extras.
Final Note
It's always good to use comparison websites in order to get the best deal, but before you commit to a policy, check independent reviews from customers. Look at reviews to see how they treat loyal customers; for example, do they regularly change the price of the policy? Do they have a history of being helpful and accessible, or do they make it difficult to make a claim?
Check out Pet Insurance Reviews and Trustpilot for real, honest reviews from dog owners just like you.
And from the team here at Petz, good luck with the process of finding the right insurer!