As you prepare for low temperatures, winds, ice, snow and everything else winter in the UK throws at us, it is vital that you think about what you can do to make your dog's winter that little bit better.
After all, they can't layer up and still need to go to the toilet and be taken on walks. Some may be scared of the noises winter weather brings too, and they can't tell us if they are cold.
Is your dog's bed warm?
OK, we know dog cages or crates are made from wire mesh. And we know that dogs don't have duvets. So it may seem a bit of a daft question, but think about it – is your crate in a draught? Is it too near a fire or electric heater – or too far away?
There is lots that can go wrong, so safety first is always good.
Keep fires screened and electric wires away from your dog's reach
Think about a crate cover that keeps their crate sheltered from draughts, or warm bedding such as a self-warming calming bed, or hooded bed, which can help with the warmth
Ensure they can make themselves comfortable. Blankets can help with warmth, but many dogs like to adjust them themselves to find a comfortable spot
Which dog food is needed in winter?
Is your dog very active with lots of outdoor runs and walks? If so, it will certainly need more calories to combat the cold, give energy and maintain healthy body weight.
Alternatively, if your dog prefers the life of luxury with as little running about in the cold as possible, then fewer calories will be needed.
However, it isn't recommended that we switch up our dog's diets too much. Have a word with your vet to see how you can alter calorie intake without it being too detrimental to their health.
You may also be wondering about giving your dog something more warming than cold biscuits and meat in jelly. Warming dog food is possible, and it actually may feel nicer on a dog's stomach. You can also give your dog some tasty, warming foods if you're prepared to balance their diet. Chicken broth is a great option, for example.
Stock up on food and medication in case it gets too dangerous to venture out. Always have a supply of fresh water available – even when outside.
Have you thought about a dog coat or boots?
We all feel the cold, and your dog is no different even if it has a wonderfully thick coat. It may still benefit from a dog coat which will keep the warmth in. A waterproof coat will also stop them from getting wet from rain, which causes coldness too.
Think also about the dark nights and bad visibility and choose one with reflective safety strips.
Have a chat with your groomer to see if any special preparation of their actual furry coat is necessary. Dog breeds with a history of surviving in the cold may not need too much special grooming, but thinner coated breeds may need the dog coat.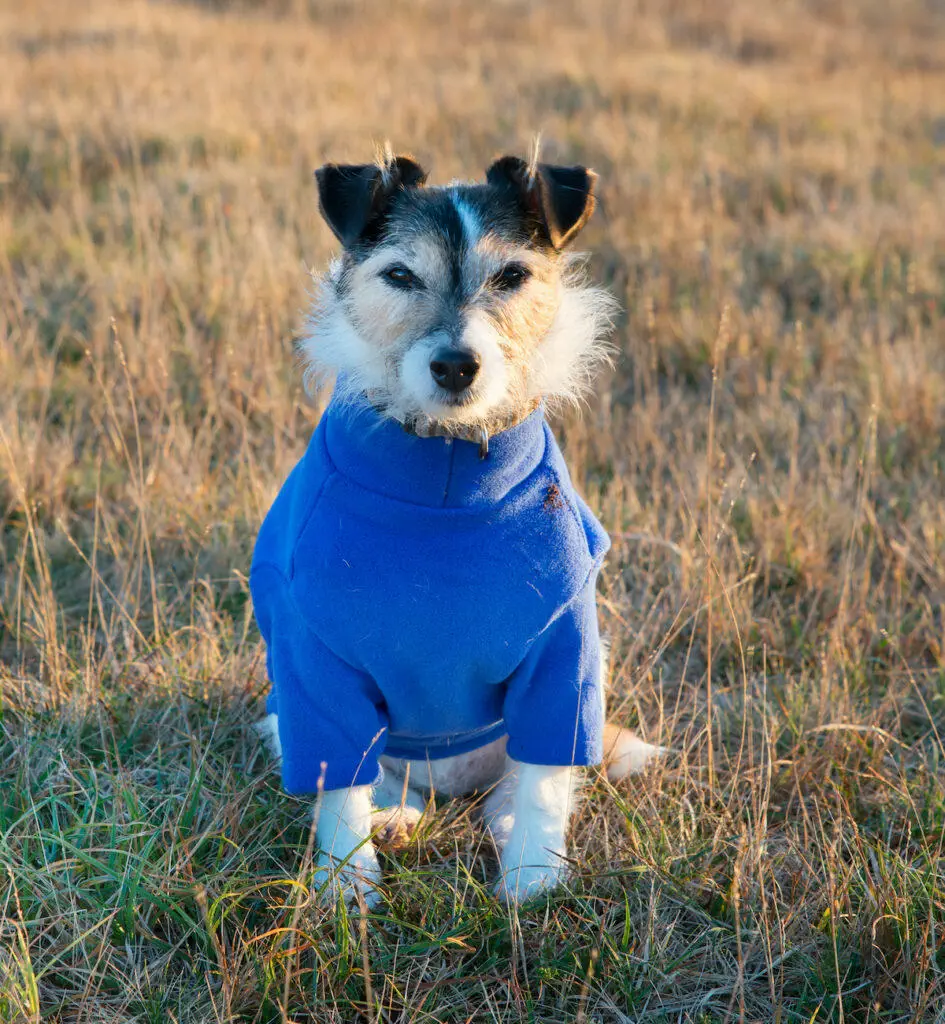 Think also about paws, and whether it is necessary to get some doggy boots. If your dog keeps lifting its paws or is reluctant to walk, it may be that the paws are too cold. Sharp ice can cut paw pads, so always check your dog's paws after a snowy or icy walk.
Ask your groomer if your dog would benefit from extra grooming attention around the paws as long hair here can easily act as a trap for ice and snow. Check for redness, scratches or other soft tissue damage.
Remember that there may well be antifreeze, salt or an array of chemicals which can be detrimental to your dog's health around during winter. So if you walk on salted pavements, wash your dog's paws when you get in to prevent irritation.
Advice for taking your dog outside in winter
Stay well away from frozen ponds, lakes and rivers. If you do have to go near them, keep your dog on a lead, because if they do go onto the ice, you may panic and go after them.
DON'T follow a dog into freezing water or onto the ice! Most dogs are strong swimmers, and stand more chance in water than you do.
Remember that snow can cover up potholes and other hazards, so be especially aware when walking on a road or grass.
Be careful in icy or slippery conditions – especially on steps, pavement edges or slopes. If you find it difficult walking in ice or strong winds, stay indoors and exercise your dog with lively indoor games.
When you do go out, both you and your dog should wear bright reflective clothing – see dog coats above.
Always make sure your dog wears a collar with a legal Dog ID Tag when outdoors, and that they are microchipped! This will be vital if you do become separated and your dog is found.
And when you have done all of that – enjoy your winter together!