We all know that watermelon has heaps of health benefits.
It (unsurprisingly) contains a lot of water for hydration. There are vitamins and nutrients. It's also great on a hot summers day when we need to cool down.
But did you know that these benefits also make it suitable for your pooch?!
Whether the heat is ramping up or you just think your dog could do with a hydration boost, these homemade treats are fabulous and contain their favourite little training treat in the centre. The good news is that they are also human friendly so you can share (although you might like to leave the treat out!).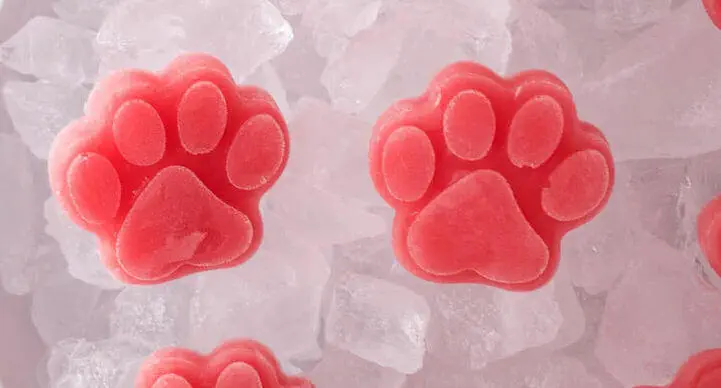 How to make frozen dog watermelon treats
Ingredients
200g watermelon
Some small training treats (suitable size for the middle of the mould or breakable)
An ice cube tray or lolly mould to freeze them in
Method
Cut your prepared watermelon into small cubes
Use a blender, smoothie maker or manual masher to blend the melon until it is almost liquid
Pour this into the moulds
Pop one treat (or broken pieces) into each mould
Transfer to the freezer until they are solid
Serve straight away when required
Notes
One big thing to remember is that all seeds and watermelon rind must be removed. These are not easily digestible for your dog and could even cause illness.
Think about what kind of eater or chewer your pup is. Are they likely to swallow the watermelon piece whole? Break the dog treats into much tinier pieces before putting them into the cubes (or leave them out altogether).
It is fun using a doggy shaped mould, such as a bone or pawprint! This would also be a good way to tell the difference between these and any regular human ones…