If your family is welcoming a new, slightly hairier member to its brood over Christmas (or you're just a certified festive fan), you may be looking for a sweet and seasonally appropriate name to christen your new pet with.
To mark the season, you may want to give your canine or cat a Christmas-themed name and so we've put together a big long list to rival Santa's elves, without a naughty name in sight.
Featuring monikers based on festive film and music favourites, classic traditions, winter weather and a whole host more, you're guaranteed to find a noel-inspired name that suits your four-legged friend better than any other!
After all, there's no nicer present you can give your new pet than a name to call their very own.
Christmas Character & Figure Pet Names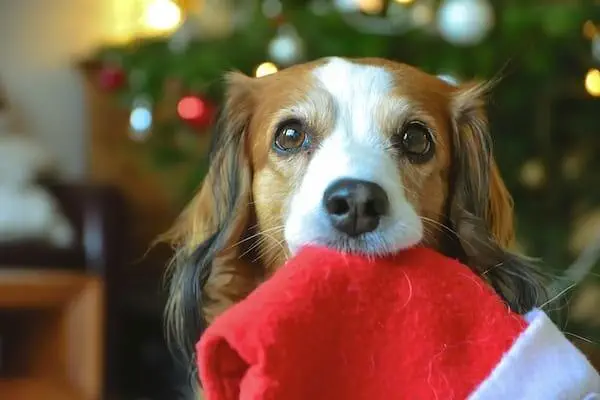 Angel – Always top of the Christmas tree
Belsnickel – A Christmas gift-bringer in German folklore
Bailey – As in George Bailey from It's A Wonderful Life
Balthazar (Magi) – The wise man who brought myrrh to Jesus
Bing (or Crosby) – As in the crooner behind White Christmas
Blitzen – Santa's toughest sounding reindeer
Bob Cratchit – Scrooge's poor suffering underpaid clerk (he loved Christmas too)
Buddy – Will Ferrell's good-natured Elf from the 2003 film
Caganer – Literally meaning 'Little Pooper', this is genuinely a traditional nativity figure in Spain (honestly, Google it)
Caspar (Magi) – The wise man who brought frankincense to Jesus
Charlie Brown – The popular Peanuts character's first-ever film was A Charlie Brown Christmas
Cindy Lou Who – The little girl who loves Christmas in The Grinch
Clarence – George's guardian angel in It's A Wonderful Life
Claus – You-know-who's surname
Comet – Santa's starry reindeer
Cupid – Santa's most loveable reindeer
Dancer – Santa's most hot to trot reindeer
Dasher – Santa's speediest reindeer
Dickens – Author of A Christmas Carol
Dominick – The Christmas donkey from the quirky festive hit!
Donner – One of Santa's reindeer & a very tasty kebab
Drummer (Little Drummer Boy) – Pa rum pum pum pum
Ebenezer – The horrible Christmas hating geezer (Scrooge's first name)
Elf – Santa's toymakers
Elsa – Disney's Christmas poster child
Fezziwig – Scrooge's total opposite in A Christmas Carol, a happy and jolly businessman
Gabriel – Angelic
Gizmo – The cheeky little Gremlin fighter in Gremlins
Grinch – The only thing he'll be stealing this Christmas is your heart!
Jack Frost – Everyone's favourite personification of the cold
Jack Skellington – The Nightmare Before Christmas' Santa Substitute
Jesus – Odd name for a pet, but hey, it is his birthday
Joseph – Jesus' dad, turned away from the inn
Kevin (Home Alone) – For pets who should never be left unsupervised
King – As in what the three wise men were!
Krampus – The half-goat, half-demon who punishes naughty kids on Christmas
Kringle – First name Kris, second name Kringle aka Santa Claus
Mariah (or Carey) – All she wants for Christmas is you!
Marley – Scrooge's partner & ghost number one
Mary – That's St. Mary to you, otherwise known as Jesus's mum
Max – The Grinch's best four-legged friend
Melchior (Magi) – The wise man who brought gold to Jesus
Mr Hankey – South Park's Christmas Poo
Nat – As in Nat King Cole, singer of The Christmas Song
Olaf – Elsa's Frozen pal
Prancer – Yet another of Santa's reindeer chums
Rudolph (or Rudy) – The reindeer with a shiny nose
Sandy Claws – Jack Skellington's odd Santa misnomer
Santa – Fairly self-explanatory
Santa's Little Helper – The Simpsons faithful hound, who was given to them on Christmas!
Scrooge – For pets who don't like Christmas
Shepherd – They wouldn't miss a nativity for the world
Snowman – Everyone's number one polar pal
St. Nick (or just Nick) – Santa's official title
Tiny Tim – Kid with a crutch in A Christmas Carol
Vixen – Santa's foxiest reindeer
Christmas Cheer & Seasonal Pet Names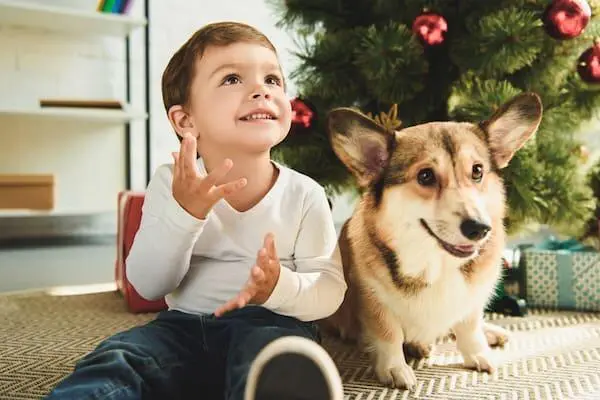 Bell or Jingle Bells – Every time a bell rings an angel gets its wings!
Bethlehem – Jesus' hometown, represented
Carol – It wouldn't be Christmas without a good old sing-song
Charity – Christmas is a time of giving
Cheer – Nothing like a bit of good old Christmas cheer all year round
Christian – Don't forget who's birthday it is!
Coal or (Cole) – If you're expecting a naughty pet
December – It's officially time to get excited from the very first day
Eve – Twas the night before Christmas…
Feliz – As in Feliz Navidad!
Holiday – Because Xmas is everyone's favourite day off!
Jolly – Have a holly jolly Christmas!
Merry – … Christmas and a Happy New Year!
Natale – Italian term for Christmas
Nativity – The performance of the year
Navidad – Spanish term for Christmas
Noel – Monsieur Christmas himself
North – As in star or pole!
Star – What the three wise men would follow
Twinkle – Twinkle little star!
Yule – As in yuletide, an archaic term for Xmas.
Christmas Weather Pet Names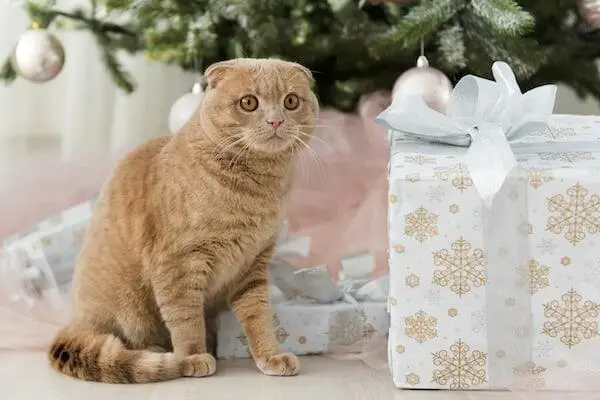 Arctic – Where the north pole is!
Blizzard – A great name for a lizard
Celyn – Welsh name for Holly
Chilly – As in a breeze, not the pepper!
Eira – Welsh word for snow
Flake – Snow's optimum form
Flurry – A small swirl of snow (Hence the McFlurry)
Frosty – For a pet that's always giving you the cold shoulder
Fyole – A word which means light covering of snow
Ice (Icicle or Icy) – Only the coolest pets will pull this one off
Igloo – An Inuit's old school icy home
Polar – A lovely name for a bear-like pup
Snowball (Snowdrop or Snowflake) – Winter weather in all its forms
Snowy – Tin Tin's pup and everyone's favourite kind of winter weather
Tundra – An environment found in Arctic and Antarctic regions
Winter – Tis the season to be jolly!
Christmas Flora, Fauna & Object Names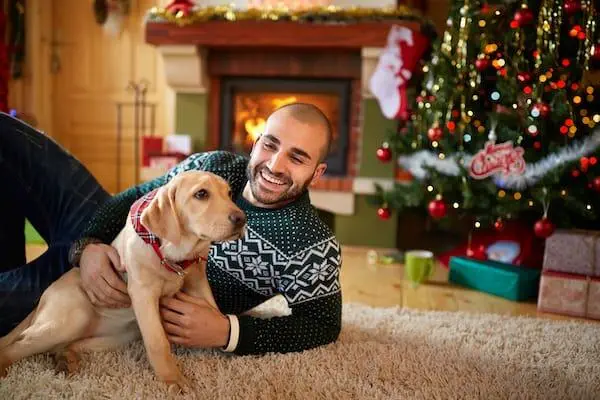 Antler – A reindeer's headpiece!
Boots – Santa's chosen footwear of choice
Christingle – A festive orange stuffed with cloves
Garland – Otherwise known as a Christmas wreath!
Glitter – Every December needs a little sparkle!
Holly – Everyone's favourite Xmas decoration
Ivy – A must-have bit of decor in your wreath
Mistletoe – For a pet, you'll always want to peck!
Mittens – For a little hand and heart warmer!
Partridge – … in a pear tree
Poinsettia – Although toxic to pets, it's still a pretty Xmas plant
Ribbon – The finishing touch on any perfect little present
Stocking – Oh the joy to be found in one big sock
Tinsel – A feather boa of pure shine!
Wreath – For pets who'll welcome everyone at the door
Christmas Food & Drink Names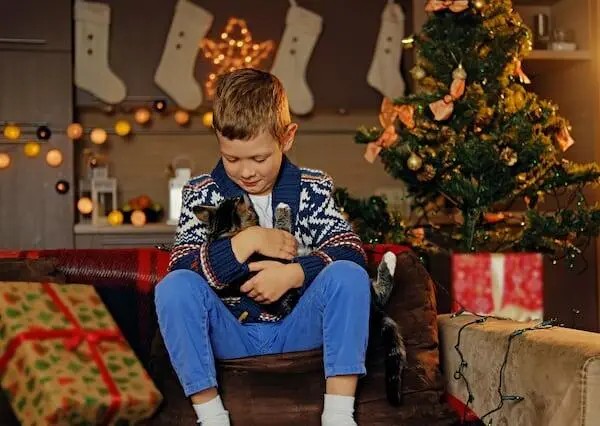 Biscuit – How many boxes do you go through at Christmas?
Brandy – A favourite festive tipple
Candy (or Cane) – The sweetest Xmas treat
Caramel – Official Christmas sauce
Carrot – Keeping reindeer sweet since Santa's early days
Chestnut – Just imagine them curled up by the open fire!
Chocolate – Your main source of sustenance through December
Cinnamon – The key ingredient in many a Xmas cookie
Clove – The beautiful smell behind a Christingle
Cocoa – There's nothing quite like a hot cup of cocoa
Cookie – The tastiest seasonal biccy and Santa's fave
Cranberry – It ain't Xmas dinner without cranberry sauce
Custard – A must-have on your pudding
Fruitcake – For pets who are a bit mad
Gingerbread – Whether a house or a man, it always tastes good
Marshmallow – For gorgeous fluffy treats only
Milky – A glass in every house and Santa is good to go
Mince Pie – Santa gets through a good million of these in one night
Mint – A fresh Xmas flavour
Nog – As in eggnog!
Nutmeg – A little Christmas spice never hurt anyone
Nutcracker – An essential tool and decoration
Pudding – Just desserts.
Sherry – Just another drop, says Nan for the eight-time today
Sugar (or Sugar Plum) – No thanks, I'm sweet enough
---
We hope this list has given you bags of inspiration for your new pets name.
And while many pet owners are responsible, unfortunately, there is still a large number of pets that are returned after Christmas. Take time to think about the idea and read our animal care guides including our Dog Care Guide to make sure you're truly ready to take on the large responsibility of owning a pet.