Spending on dogs in the UK has always been record-breaking; in 2019, Brits spent over £10 billion on their pooches, and over a quarter of owners admit that they love to thoroughly spoil their pet.
A sub-industry which has seen a massive acceleration in growth over the past five years is luxury doggy daycares and boarding. Gone are the days of leaving your pup in a drab, soulless kennel with just the most basic of legal requirements. If you're going on a fancy holiday or treating yourself to a nice day out, your dog deserves the same.
One particular example is Barkdales, an exclusive daycare for small dogs who pamper pups on their owner's behalf.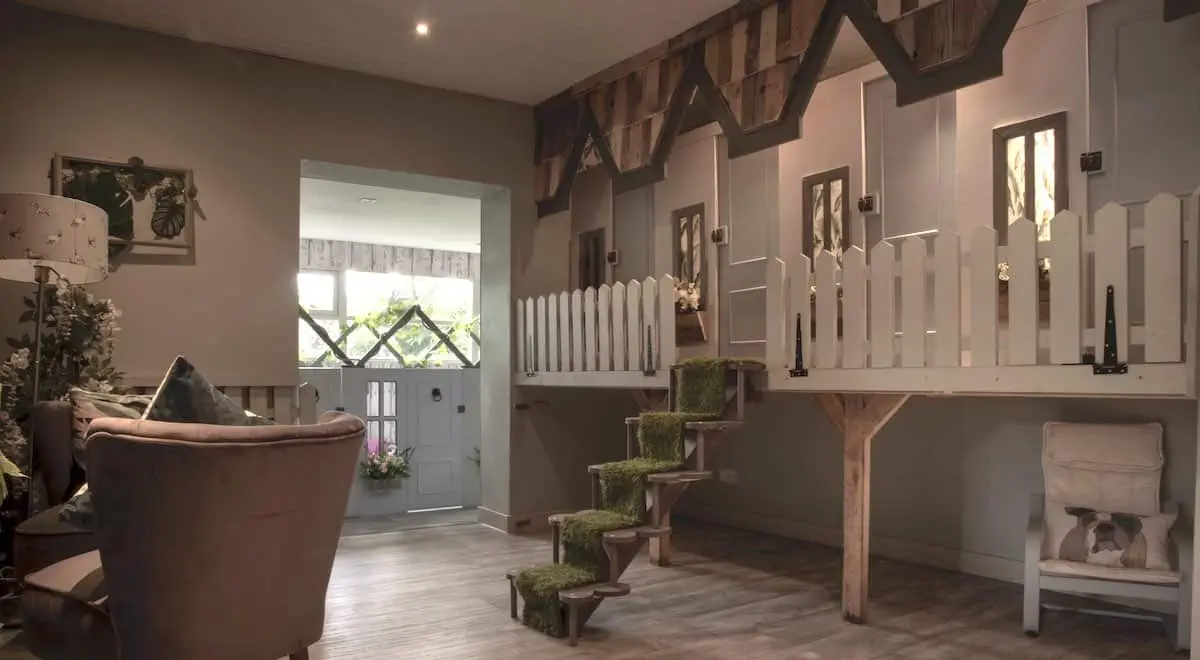 Based in Hazel Grove, Cheshire, Barkdales Daycare was established in 2018 and has since seen huge demand, now even offering boarding due to customer requests. No surprise given that they've been awarded the highest possible rating of 5 stars by Stockport council.
Jeni from the company admits that individuals and their dogs all want different things and where is right for them depends on their personality, which is why they offer thorough meet & greets and enrolment processes.
For some, an open field and muddy puddle are enough; for others though, the high life is the only way, especially if it is what they are used to at home. Think snuggles on laps, proper sofas to lounge on and even heated beds.
They only look after small and miniature dogs, but for good reason. "Some small dogs can feel overpowered by larger dogs…it is a bit like a nursery, as you wouldn't put a young baby in with 3-year-olds. It is an ethos which has been well received by our clients", Jeni tells us.
When designing Barkdales, the setting and playhouse were all made with smaller dogs in mind rather than following a generic build. The apartments are even in a cosy treehouse-style area accessed by stairs.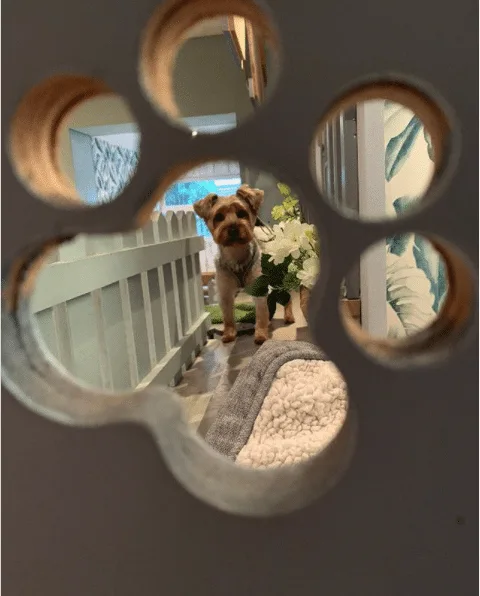 What Makes Barkdales A Luxury Daycare?
Ordinary daycares will usually recommend a visit before their first big day, but even if it is the right place for your dog, there may not be much flexibility in terms of how your dog is looked after, especially when it comes to reflecting their usual lifestyle or schedule.
But when they enrol, Barkdales asks for a care plan from every owner based on the dog's behaviour and needs.
Jeni says: "If your dog prefers to not walk when it is raining, that is fine. If they have certain treats, or often eat off a silver spoon, we can do that! We can also feed dogs if they are used to having some food at lunch, which is something that ordinary daycares don't offer because of food aggression".
Barkdales can take dogs aside when eating, requiring some time out or simply needing attention because of the high ratio of humans to animals. They take no more than 10 dogs every day and usually have 2-3 staff members available. Ordinary daycares will often only have a 1:10 ratio.
Another bonus is that they only enrol dogs who can go on a minimum of one set day a week. If you only need care on an ad hoc basic (days of the week will change, or just on occasions) they cannot accommodate. It may seem a bit illogical to turn away potential custom but means the dogs are likely to only be around others they know and get on with.
There is also a sensory private garden which is closed in, with plenty of "herbs to sniff and other stimulation". Outside is also plenty of CCTV, and everything is fully enclosed, in response to the UK-wide increase in dog thefts. Basically, pups couldn't be in safer hands and owners can relax!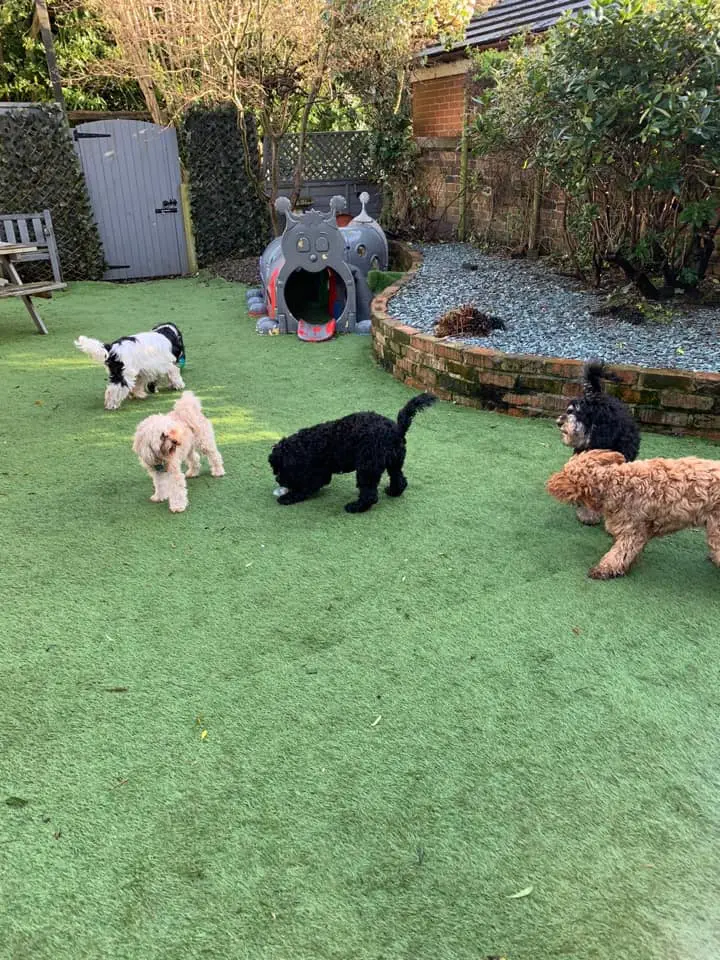 It is also a common misconception that dogs are only taken to daycare because their owners have work commitments. But at Barkdales, because the dogs have such a great time, a lot of the owners aren't necessarily using them for this reason.
Jeni explains: "One particular client has the freedom to take her dog to work every day, but brings her here three days a week. She wants her to know she is a dog". The interaction and socialisation with other dogs and humans is something many clients see as vital, and their pampered pup otherwise wouldn't get if they spent all day every day with their owner rather than other dogs and faces.
Dogs also return home at the end of the day feeling tired, calm and happy which allows owners to get on with other life tasks such as looking after children.
Other Activities
Dogs don't have to entertain themselves when at Barkdales. They have themes each season and a different timetable of events.
One day, they may go foraging in woods closeby. This term, they are focusing on languages so pups can learn how to sit in French, giving them a very different mental stimulation which they would otherwise probably not receive at home!
Last term, spa days were all the rage, with a luxury hot tub for dogs and beer or Pawsecco on the menu. In June, they also had a school trip to Unleashed Wrenbury, a 3-acre adventure park especially for pups.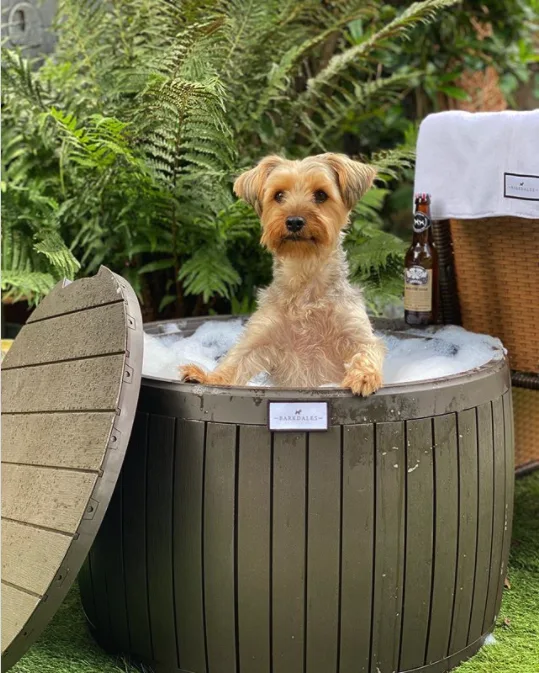 They will have two twenty-minute walks a day on the lead to a local park, at the very least, which is something dogs can miss out on with some ordinary daycares. To unwind, dogs get a Storytime after their busy day too.
Boarding
Clients were taking their pooches to Barkdales for special social daycare, but when it came to having to put them into kennels when going on holiday, they were asking for recommendations.
In response to the demand, Barkdales set up their own luxury boarding quarters which follows the same ethos of their daycare. Dogs get 1:1 attention, and being in an environment they are used to already (with familiar faces) means they are comfortable and are still allowed to mix with the daycare friends.
Jeni also tells us that it is a way for "dogs to get a holiday too". They are taken to places such as a National Trust park or beach during their stay, so while you are sunning yourself or exploring cities, they also get an adventure!
A Very Special Visit
They don't just have the approval of dozens of local doggies, owners and Stockport Council. Barkdales hosted a special Christmas party for Henry, the newest canine member of the Blue Peter team, in 2019.
It allowed Barkdales to think about taking their events in a new direction. They already host birthday parties for when guests are getting another year older, but they have had enquiries about future parties and puppy showers too, so if you're in the area, expect it to become the must-visit venue for all Very Important Pups.